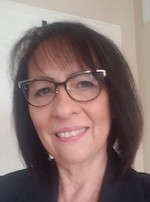 Gerry Hernandez
Senior Paralegal
Gerry Hernandez began her paralegal career in 2000 after graduating from Community College of Denver with a Paralegal Certificate. After graduation, Gerry began her career in family law working for small and large family law firms who represented high conflict and large asset clients. She now considers herself a senior paralegal having 20 years of experience specializing in family law.
Gerry's passion for volunteering gives her the opportunity to help those less fortunate and share her paralegal knowledge of the law. She volunteers for the Metropolitan Volunteer Lawyers Family Law Court Program and Family Tree Outreach and Legal Advocacy Program. In 2008, she received the Paralegal Community Service Award for all her volunteer work with the Metropolitan Volunteer Lawyers Association. In 2019, Gerry was appointed a CASA for the Broomfield/Adams County.
In her free time, Gerry enjoys spending time with family, walking her 2 pups (Joey & Lucy), volunteering for the Chihuahua & Small Dog Rescue and watching the Broncos.
Education
Paralegal Certificate, Community College of Denver, 2000
Business, Grand Island School of Business, 1973
Professional & Bar Association Memberships
Paralegal Community Service Award - Metro Volunteer Lawyers Association - Paralegal of the Year
Member Since: 2008
Member of National Federal Paralegal Association
Member Since: 2004
Member of the Rocky Mountain Paralegal Association
Member Since: 2004
Volunteer - Metropolitan Volunteer Lawyers - Family Law Program
Member Since: 2004
Volunteer Family Tree Outreach and Legal Advocacy Program 2019
CASA – Adams/Broomfield County 2019
Non-Legal Activities
Volunteer Chihuahua & Small Dog Rescue – 2017