Mediation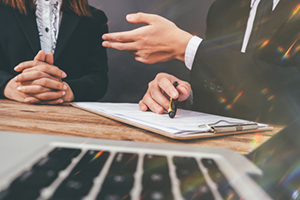 Court-ordered mediation has become an integral part of the civil justice process in Colorado. Trial courts have the authority to order mediation, and mediation is a common requirement. There are times when a court might decide not to order mediation if there is a low probability of success in a high-conflict case or if it would cause undue delay. In re Marriage of Wollert, 464 P.3d 703, 714, FN 1 (Colo. 2020). It is also common for parties to set forth in a parenting plan or separation agreement that they will attempt mediation for any future disputes prior to filing a court action.
Although there are many different dispute resolution methods, mediation is the most common. Despite the fact that it is often court-ordered, mediation is a voluntary, confidential, and structured out-of-court process facilitated by a neutral third party who assists the parties in reaching agreement, if possible. Mediation is voluntary in that a party may choose not to actively participate in mediation and proceed to trial instead. Some parties attend but do not actively participate to avoid violating a court order. Courts do have the authority to sanction a party for a failure to schedule or appear at mediation, but they can not sanction a party for failure to actively participate.
Mediators focus the parties on generating options and ideas for agreement, as opposed to having a judge decide the issues. If the parties enter into an agreement during mediation, it is drafted as a Memorandum of Understanding (MOU). The parties can then embody the agreement in a formal and more comprehensive separation agreement or parenting plan afterwards. When court-ordered mediation is complete, one party or the other must file a certificate of mediation prepared by the mediator that documents mediation completion. C.R.S. § 13-22-311(3). Also, if the parties and mediator agree that mediation is progressing in good faith, courts should continue any hearing to allow for the parties to resolve issues between themselves, unless it would cause unjust delay. Parties may request mediation at any time. Mediation is usually more economical than contested litigation. Because mediation is confidential, a party may not disclose mediation discussions in court.
Tip: Because court-ordered mediation is scheduled for only two hours, it is helpful to go into mediation with a written proposed agreement. Memorandums of Understanding generated in mediation are often not as detailed as those that can be generated outside of it. A detailed agreement, exchanged with the other party beforehand, can be modified in the course of mediation to result in a comprehensive agreement as a mediation product.
Agreements reached in mediation can be issued by courts as an order of the court upon request of a party. Courts are often very cooperative in this process, particularly if both sides are represented by counsel. It is not necessary to reach complete agreement in mediation, and parties often may reach only partial agreement. A partial agreement can narrow litigation issues, reducing conflict and cost. Even if an agreement is not reached, mediation still fills an important information gathering role.
Janko Family Law Solutions - Turning Change Into Opportunity
Divorce and family law matters are difficult to navigate alone and the court process is usually more complex than expected. In Colorado Springs, we can guide you through the process by handling document preparation and filing, negotiation, mediation, and court proceedings from start to finish. This allows you to focus on moving forward to a better future. Remember that change often creates new opportunity and a better future. Janko Family Law Solutions can help ensure that your best interests are protected. Contact us at 719-344-5523 or complete our online form to set up a free thirty-minute informational consultation.