Child and Family Investigations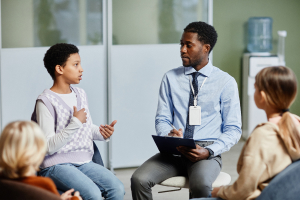 Sometimes when parents are unable to agree on a parenting plan, a neutral Child and Family Investigator (CFI) is appointed by the court to evaluate the matter and make a recommendation on allocation of parental responsibilities, parenting time and decision-making. It is helpful for parents to know up front what the process will involve. If you are represented by an attorney, the attorney can assist you through the process and explain each step along the way.
Step 1 - questionnaires and other paperwork. Each parent will first start by filling out paperwork and a questionnaire. For example, each parent will review and sign CFI policies and a fee agreement as well as medical release forms. Payment can be either made by the state or paid privately by the parties, depending on eligibility.
Step 2 - parent interviews. The CFI will reach out to each party individually to schedule an initial interview. This may occur virtually or in the CFI's office. The initial interview will just be with one parent at a time without the children. This is an opportunity for the parent to share concerns and ask the CFI about the process.
Step 3 - background checks. In most cases the CFI will run a Colorado Bureau of Investigation criminal background check on both parents. In some cases, the CFI will also run a background check on significant others living in the homes.
Step 4 - home visits. After each parent has been interviewed, the CFI will travel to each home to conduct a home visit. Due to COVID, the CFI may conduct this visit by Zoom or another virtual platform. This is an opportunity for the CFI to speak with the children and observe the parent and child in the home environment.
Step 5 - child interviews. If the children are old enough, the CFI will speak with them during the home visit. You should let the CFI know of ways to make the children feel comfortable during the visit. Usually children younger than age eight will not be formally interviewed. However, the CFI will interact in some way with all children.
Step 6 - evaluation. After meeting with parents and conducting home visits, the CFI will contact third parties, such as relatives, friends, neighbors, teachers, medical or mental health professionals, probation officers, coaches or members of religious congregations.
Step 7 - report writing. The CFI will write a report making recommendations on parenting time and decision-making. A court is not bound by the recommendations and they can be rebutted with evidence, however they are often considered to be persuasive.
Janko Family Law - Is it Time for a Change?
Divorce and family law matters are difficult to navigate alone. With offices in Colorado Springs, we can guide you through the experience by handling pleading and motion preparation and filing, negotiation, mediation, and court proceedings from start to finish. This allows you to focus on moving forward to a better future rather than on trying to figure out how the overly complex court system works. Remember that change often creates new opportunity and a better future. Janko Family Law can help ensure that your best interests and the best interests of your family are protected. Contact us at 719-344-5523 or complete our online form to set up a free thirty-minute informational consultation.