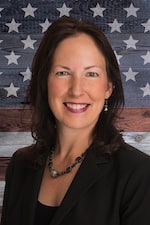 Sabra M. Janko
Sabra Janko, Esq. practices in the areas of family mediation, divorce and family law, military mediation and divorce and family law, estate planning, contracts, and small business legal services.
She is a former Army JAG attorney, originally enlisting with her first assignment at the Defense Language Institute in Monterey, California to attend Russian language training. Her last assignment was as a Professor at the United States Military Academy where she taught constitutional and criminal law.
Post-service, in the Hudson River Valley area of New York, she provided general practice civil legal services to veterans at the nonprofit association Legal Services of the Hudson Valley to include family law, Chapter 7 bankruptcy, public benefits appeals, as well as wills and powers of attorney. After relocating to Colorado, she started and managed the then new Colorado Bar Association Federal Pro Se Clinic. She also advised pro se litigants on federal civil legal matters, as well as starting and managing a volunteer program for the clinic.
While serving with the United States Army Judge Advocate General's Corps, she practiced in a variety of legal areas to include administrative, criminal and international law as well as legal services. She advised servicemembers, retirees and commanders on legal service matters to include family law, income tax, wills and powers of attorney, and military adverse action appeals to include running the Fort Bragg Income Tax Assistance Center. She was a paratrooper and a combat veteran serving in Iraq and Jordan during Operation Iraqi Freedom and Operation New Dawn.
She has published several legal articles and a monograph with the American Bar Association.
Publications
The Federal Lawyer - Colorado's Federal Pro Se Clinic – First Steps (February 2019)
Faculty of Federal Advocates Newsletter, Colorado's Federal Pro Se Clinic – First Steps (2018)
Colorado Lawyer, Colorado's New Federal Pro Se Clinic (2018)
Maryland Journal of Healthcare Law and Policy, Diagnostic Evidence Admissibility and the Multiple Personality Disorder Defense (1998)
Maryland Journal of Contemporary Legal Issues, The Multiple Personality Disorder Defense (1997)
American Bar Association Monograph, Criminal Responsibility and Multiple Personality Defendants (1997)
Licenses and Accreditations
Licensed to practice law in Colorado and New York
Veteran's Administration Accreditation
Admitted to the Court of Appeals of the Armed Forces Bar
Admitted to the United States Supreme Court Bar
Basic Mediation Certification
Education
L.L.M., Military Law, The Judge Advocate General's Legal Center and School
J.D., University of Maryland School of Law

Notes and Comments Editor - Maryland Journal of Healthcare Law and Policy
American Bar Association Public Service Internship – Mental and Physical Disability Law Section
Family Law Pro Se Clinical Program
M.P.A. (Public Administration), The University of Oklahoma
B.A., Behavioral Science, The University of Maryland
Professional and Service Organizations
Colorado Bar Association, Family Law and Military and Veteran's Affairs Sections
Colorado Women's Bar Association
Denver Bar Association
Mediation Association of Colorado
American Legion Post 206
Volunteer Service
Pro bono attorney volunteer with the Colorado Bar Association Veterans Legal Clinic
Assistant Den Leader for Cubscout Pack 34
Member American Legion Post 206
In Newburgh, NY, she taught income tax law to volunteers and prepared tax returns through the Coalition for Assets Savings and Hope.
Volunteer Child Support and Parenting Time Mediator with Jefferson County Mediation Services, 2019 - Present
Women's Military History Educational Presentations