Asset and Debt Transfers After Divorce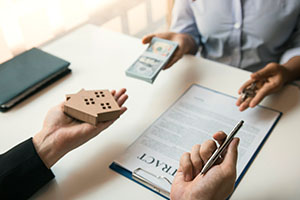 Once you have the divorce decree in hand, you have almost reached the light at the end of the tunnel. However, there may still be steps to be taken to implement the court orders. For example, titled assets commonly transferred are real estate, vehicles, bank accounts, investments, life insurance, and retirement plans. Transfer documents may need to be prepared, executed, and recorded.
When real estate is transferred, a deed must be prepared for signature. The deed should then be recorded in the proper county. Business transfer documents may need to be executed. For vehicle transfers, Parties can obtain transfer documents from the Department of Motor Vehicles.
Most separation agreements provide that if a Party does not cooperate in executing a transfer document by a particular date that the Clerk of Court may execute the document. For bank account transfers, a certified copy of the divorce decree will have to be provided to the bank. Though most people simply agree to close a joint account and divide the proceeds. If life insurance policies are transferred, the ownership and the designated beneficiary must be changed through the issuer. The life insurance company may also require a certified copy of the decree. Wills and trusts should be revised and beneficiaries changed appropriately.
Some retirement plans will require a Qualified Domestic Relations Order (QDRO) be prepared and then issued by the Court as an order to transfer retirement interests. The QDRO is submitted to the plan administrator. It may be advisable to obtain pre-approval of the proposed QDRO from the plan administrator prior to submitting to the Court. Often a party will revert back to a prior name at the time of divorce. If a last name is changed, then it will be necessary to inform various entities of the name change, such as banks, the Department of Motor Vehicles, Investment firms, etc., to determine what documentation the entity will require. Generally, a certified copy of the decree will be sufficient.
Debt
Joint debt accounts should be closed so that no additional expenses can be accrued. Payment of the balance will be determined by the decree. If a Party fails to comply with payment requirements, the other Party can ask for enforcement and attorney's fees. This is particularly the case if there is an indemnification clause in the decree. Indemnification clauses are standard in most separation agreements. If another Party is allocated debt payment for a joint debt, the non-paying party should monitor his or her credit report for early warning if payment as ordered is not being made.
Turning Change Into Opportunity in Colorado Springs
How can an attorney help with post-divorce matters? A Colorado Springs divorce and family law attorney can guide you through necessary steps after divorce. This allows you to focus on moving forward to a better future rather than on spending your time trying to figure out the overly complex court system. Contact us at 719-344-5523 or complete our online form to set up a free thirty-minute informational consultation.