Child Support and COVID 19 Job Loss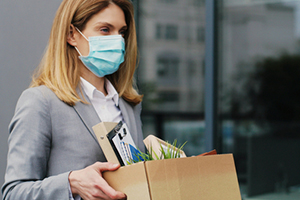 What do you do if you have lost your job and have a child support obligation that you can not pay? Even under the best of times, with at will employment, many employees do not have job security. First, do something. Unless you modify the support obligation, it will continue and if you are not paying the support, you will owe child support arrears. There are many potential consequences of child support arrears, such as being in contempt of court and the loss of passports and professional licenses.
Consult an Attorney
Each case is unique, and a family law attorney can give you an understanding of your legal options and whether you have legal grounds to request a child support modification.
File For a Modification of Child Support
The first thing to do is to request a child support modification if you have a substantial or continuing change that is more than plus or minus 10% of the current child support obligation. COVID 19 may impact future employment potential as hiring rates slow down in many industries. Even if you are self-employed, you may see a drop in demand for your product or services due to COVID 19. You could also enter into an agreement with the other parent to modify the support amount, which an attorney can draft and file with the Court to ask the Court to enter the agreement as a court order. This second approach could avoid the necessity to appear at a court proceeding.
Child support does not change automatically when income changes and you must take action for a change to occur. When a child support obligation is changed, the add-on expense portions of the child support can be changed as well. These include health insurance expenses, unreimbursed medical expenses, extracurricular and educational activities, and parenting time transportation.
Seek Employment
If you have lost your job, look for replacement employment. The Court will expect to see efforts to obtain suitable employment and the other party can ask that you provide copies of all resumes and applications through the discovery process. The discovery process allows parties to ask and obtain information from the other party relevant to the court proceeding. If you show diligent efforts to locate new employment, then the Court will likely not impute income to you.
Continue Paying to the Best of Your Ability
You are still obligated to pay the required amount under any current order until a modification is made. A failure to pay results in child support arrears and you will owe 12% compounded interest on arrears. That interest can add up quickly. The support modification will go back to the date of filing, therefore if you have legal grounds to file for a modification, you should file early to lock in the retroactivity date.
Agreed-Upon Changes in Parenting Time
Due to the impact of job loss, parents may agree to a modification in parenting time that would impact the child support amount because child support is based on the parties incomes as well as number of overnights with each parent. Child support is retroactively modified as of the date that the Motion To Modify was filed. However, there is an exception for modifications based on a mutually agreed upon change in parenting time between the parents. In this case, child support may be modified retroactively to when the agreed-upon parenting time change occurred. The retroactivity is limited to five years, however.
If you have questions about a child support modification, contact Janko Family Law Solutions for a free case assessment to determine what your legal options are and how we might assist in resolving your legal issue. We can be contacted at sabra@jankolaw.com or 719-344-5523.