Civil Court Due Process Protections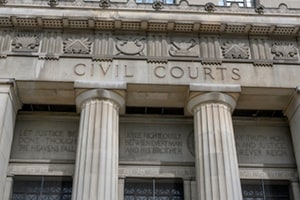 Due process protections arise from the 14th Amendment to the United States Constitution and provide that "All persons born or naturalized in the United States, and subject to the jurisdiction thereof, are citizens of the United States and the State wherein they reside. No State shall make or enforce any law which shall abridge the privileges or immunities of citizens of the United States; nor shall any State deprive any person of life, liberty, or property, without due process of law; nor deny to any person within its jurisdiction the equal protection of the laws." The Colorado Constitution contains a due process protection as well.
Generally
Due process requires fairness in how laws are applied and how governments may deprive citizens of the fundamental rights of life, liberty and property. Due process differs for criminal and civil matters, and there is a higher level of protection for criminal matters due to the life and liberty interests involved. In civil matters, a balancing test is used to determine what process is due that includes:
the procedure with respect to the private interest affected
the risk of erroneous deprivation of that interest under the procedure
and the government interest at stake
Requirements
Courts have discretion and this alone does not violate due process. Statutes and caselaw allow for some level of prediction about what decision any individual court will make, however particularly in domestic relations cases, judges are given a great deal of discretion in their decisions. As long as the discretion is exercised fairly and impartially, due process is met. The two fundamental due process rights are:
Notice
An impartial hearing
Due process might also require:
An opportunity for confrontation and cross-examination
An opportunity for discovery
A decision on the record
Representation by counsel
Notice
Interested parties must be informed of legal actions and have the opportunity to participate and object. In addition, notice must be specific enough to apprise a party of the nature and minimum relevant facts of an action with enough specificity to allow a response.
Hearing
A hearing is required before an individual is deprived of life, liberty or property. Further, notice of hearing and the opportunity to be heard "must be granted at a meaningful time and in a meaningful manner. There would be no protection in holding a hearing after a deprivation had already occurred.
Fairness and Impartiality
A judge must not be predisposed against a litigant. There is a presumption that judges are fair and impartial. While there are procedures to recuse a judge for bias, the bar is high to achieve a recusal. In Colorado state court, a person must submit affidavits from two disinterested witnesses attesting to bias in order to request that a judge be recused for bias.
Confrontation and Cross-Examination
In hearings and trials, important depend on questions of fact. Consequently, due process requires an opportunity to confront and cross-examine adverse witnesses. This is because testimony can be inaccurate for a variety of reasons:
Faulty memory (particularly as time passes)
False testimony
Biased testimony due to malice, vindictiveness, intolerance, prejudice, or jealousy
Decision on the Record
A judicial decision must rest solely on the legal rules and evidence presented at the hearing. The decisionmaker should state the reasons for his determination and indicate what evidence he relied on even if the decision does not amount to a full opinion or formal findings of fact and conclusions of law.
Right To Counsel
There is no right to court-appointed counsel in civil matters, however there is a right to court-appointed counsel in quasi-criminal matters, such as a contempt of court hearing. This is because a contempt hearing can result in jail.
If you have questions about due process protections, contact Janko Family Law for a free case assessment to determine what your legal options are and how we might assist in resolving your legal issue so that you can put it behind you. We can be contacted at 719-344-5523.