Colorado Divorce Cases, Cook v. Cook, 511 P.3d 605 (Colo. 2022), Psychological Parent Standing To Petition For Allocation of Parental Responsibilities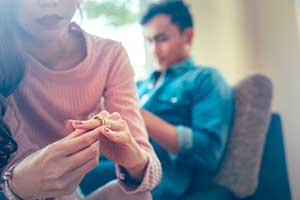 Statutes set forth Colorado law and appellate courts interpret the law as set forth in appellate cases. In Cook v. Cook, the Colorado Supreme Court assessed whether a trial court correctly applied the law about a nonparent's ability to bring a case for allocation of parental responsibilities/child custody. The Court decided that neither exclusive physical care nor parental consent is required for a nonparent to request child custody under Colorado Revised Statute (C.R.S.) 14-10-123(1)(c).
Background
A stepfather requested allocation of parental responsibilities (APR) of his stepdaughter, E.K. The child's mother had divorced from Biological (Bio) Father and shared parenting time and joint decision-making responsibilities pursuant to a parenting plan. Mother and Stepfather then married and had two children together. Two years later, Mother and Stepfather moved farther away from Biological Father, and E.K., Child, began spending significantly more time living with Mother, Stepfather, and her half-siblings. Stepfather was actively involved in E.K.'s life. He took E.K. to and from school, helped her with homework, enrolled her in sports, attended her parent-teacher conferences, coordinated tutors, and took her on vacations. This continued for about eight years at which point Mother and Stepfather separated. E.K. continued to live with Stepfather for several months while finishing school year.
Stepfather filed a petition for an APR to establish rights as a psychological parent. Mother and Bio Father filed a joint motion to dismiss the petition stating that that he could not bring a case because his relationship with Child was due only to his marriage with Mother, and he had not have sufficient exclusive care of her.
The trial court concluded that it could not find that Stepfather had physical care of Child as Mother made decisions for her and provided her daily care. Stepfather supported Mother and she was the primary caregiver. The trial court also found that although Child lived with Stepfather to complete school she was in his care for less than 182 days. The court then dismissed Stepfather's petition because he did not have standing to bring the case and ordered him to pay attorney fees because "his action was frivolous. Stepfather appealed.
Analysis
The Supreme Court concluded that Stepfather had standing and that he should not have been assessed attorney's fees. The trial court reviewed the case for clear error as it involved a jurisdictional determination. The Court reasoned that C.R.S. 14-10-123(1)(c) allows an APR petition to be filed by a nonparent who has had physical care of a child for at least 182 days within the past year. The trial court had incorrectly imposed an exclusive physical care requirement and a consent of biological parent requirement, despite the fact that there is no statutory requirement for exclusive care or consent of the other parent for a psychological parent to file an action for APR.
Here the Court found that Stepfather met the time of care requirement because of the total amount of time that he spent with Child. The Court found that the nature of Stepfather's care was more than supportive care and that Stepfather had provided substantial care to Child. The lower court was required to consider the nature, frequency and duration of Stepfather's contacts with Child. The Supreme Court found that Stepfather was acting more like a co-parent. Thus Stepfather prevailed and the case was remanded back to the trial court.
Turning Change Into Opportunity in Colorado Springs
An attorney can guide you through Colorado Springs divorce and family law matters by negotiating, mediating and litigating. This allows you to focus on moving forward to a better future rather than on spending your time trying to figure out the overly complex court system. Colorado Springs Divorce and family law matters are difficult to navigate alone. The court system is more complex than it should be. Change can be stressful, however it can lead to a better future. Janko Family Law Solutions helps ensure that your best interests are protected and that you are aware of your legal rights and obligations.
Contact us at 719-344-5523 or complete our online form to set up a free thirty-minute informational consultation.