Colorado Springs Common Types of Domestic Relations Cases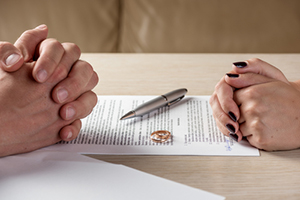 Different cases are heard in different courts. There are a variety of cases that are heard in domestic relations court. Some common issues are dissolution of marriage to include asset and debt division, common law marriage, declaration of invalidity/annulment, allocation of parental responsibilities, child support, and legal separation.
Dissolution of Marriage to Include Property Division and Debt Allocation
Dissolution is one of the most common domestic relations cases. When two people dissolve a marriage or civil union, there are many issues to be decided, such as equitable distribution of assets and debt and matters involving children. Equitable generally means equal, however that is not always the case.
Assets and debts are identified on sworn financial statements. Attorneys then create an asset debt spreadsheet which shows all assets and debts as well as proposals for division. The attorney and client work together to create a proposal. A court will generally approve an equal division, though equitable does not have to be equal and various arguments can be made for unequal distributions, such as one party making a higher contribution to the marriage.
Common Law Marriage
Colorado recognizes common law marriage. A common law marriage is created when two people agree to be married and hold themselves out to others as such. The intent of the parties is key. It is not enough just to title property jointly, for example. In common law marriage, the dissolution process is the same as for a traditional marriage. Courts evaluate a number of factors when determining whether there is a common law marriage such as:
The existence of a ceremony, especially if third parties are present;
Evidence that the parties have held themselves out to others as being married;
Filing joint income tax returns.
Naming the partner as a spouse on insurance policies, retirement plans, or estate planning documents.
Declaration of Invalidity/Annulment
Although most marriages and civil unions are dissolved, sometimes an annulment is possible, which essentially makes the marriage void because of a determination that the marriage was not valid when entered into because of certain deficiencies. A declaration of invalidity most frequently applies to very short-term marriages.
Allocation of Parental Responsibilities & Child Support
Allocation of parental responsibilities involves a determination of what amount and type of time each parent will spend with the children and who will have what type of decision-making over important matters involving the children. It also involved child support. Courts expect parents to provide financial support for their children. Child support is determined based on the income of the parties and number of overnights each has with the child.
Legal Separation
Sometimes a legal separation is preferable to a dissolution. Both involve asset and debt division and a determination of allocation of parental responsibilities and child support. Separation is sometimes preferable if there are religious barriers to divorce or one spouse requires insurance coverage provided by the other. Many legal separations however, are converted to a dissolution of marriage during the initial process or later. After 182 days of the issuance of a decree of legal separation is issued, either party can request that it be converted to a dissolution. Once the motion is served, the court is required to convert the legal separation to a dissolution. Thus, there is no defense to the conversion.
Turning Change Into Opportunity in Colorado Springs
An attorney can guide you through Colorado Springs matters involving child representation by negotiating, mediating and litigating. This allows you to focus on moving forward to a better future rather than on spending your time trying to figure out the overly complex court system. Colorado Springs Divorce and family law matters are difficult to navigate alone. The court system is more complex than it should be. Change can be stressful, however it can lead to a better future. Janko Family Law Solutions helps ensure that your best interests are protected and that you are aware of your legal rights and obligations.
Contact us at 719-344-5523 or complete our online form to set up a free thirty-minute informational consultation.