Court Jurisdiction In Family Law and How To Start a Case
A court must have jurisdiction over the legal issue and over the parties to hear a case. This means that you must choose the right court to file a case in. These are the two types of jurisdiction – jurisdiction over the parties' legal issue and jurisdiction over the parties themselves. Jurisdiction gives a Court the authority to make a decision in a case.
Subject Matter Jurisdiction in Dissolution (AKA Divorce)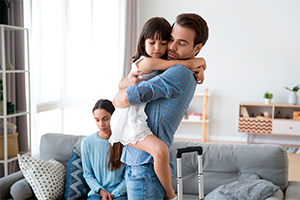 In order to obtain a Colorado dissolution there is a domicile requirement and a waiting period. The domicile requirement is fulfilled if at least one of the parties to the divorce has lived in Colorado with the intent to remain for at least 90 days prior to filing.
Personal Jurisdiction in Dissolution
Personal jurisdiction is required in order for a Colorado court to dissolve a marriage, order a party to pay spousal support or maintenance, or divide marital property. A court must also have personal jurisdiction to award attorney's fees to a requesting party.
Jurisdiction is straightforward when both parties are domiciled in the state. However, jurisdiction can become more complicated if one of the parties does not live in the state. If one party does not reside in the state of Colorado that party can still consent to jurisdiction here. Even when one party does not live in the state and does not consent to jurisdiction here, jurisdiction can still be found if that party is served in the state or if the marriage occurred in the state.
What if I can't find the other party?
Sometimes the other party can not be found. In situations where diligent attempts have been made to have a party served to no avail, service can occur by publication, rather than personal service, and a Court can dissolve a marriage or civil union, however a court is much more limited in what it can award with regards to monetary provisions.
What is the legal standard for dissolution in Colorado?
Colorado, like many other states, has a "no-fault" dissolution legal standard. The "no-fault" standard for Colorado divorce is "irretrievable breakdown of the marriage." Only one party need assert that the marriage is irretrievably broken to initiate divorce proceedings.
How Do I Start a Dissolution Case?
You start a dissolution by filing a petition and summons with the court and then having those documents served on the other party. This is important because fundamental due process requires that the other party have notice and an opportunity to be heard before any decision is made. You can always file in the county where the other party resides. After the person filing the dissolution paperwork has a copy served on the other party, there are many other steps that must be taken before a dissolution can be granted.
Response
Once served, generally the person responding, called the "Respondent" has 21 days to answer the petition. If the Respondent does not respond, the original filer, the "Petitioner," can ask the court to issue a default judgment, which is a judgment issued based only upon the information that the Petitioner has provided. Courts generally are not quick to enter default judgment as they do not afford full due process to the other party and there can be legitimate reasons for a party's failure to respond within 21 days.
Division of Property and Debts
In a dissolution action the parties often agree to a division of property and debt, or a Court decides the issue. There are two types of property, marital and separate. In a simplistic sense, marital property is that acquired during the marriage and separate property is that acquired prior to marriage or by gift or inheritance to one party. A court can divide marital property, though not separate property.
However, appreciation of a separate property asset during the marriage can also constitute marital property in Colorado. Appreciation does not become a marital interest in all states. In some states, separate property retains its identification as separate during the marriage despite appreciation, unless it is intermingled with marital funds or utilized for a marital purpose.
Consult With An Attorney
If you have questions about dissolution or need assistance in the process, consult with a family law attorney for a full assessment of your rights and responsibilities.