Discovery Abuses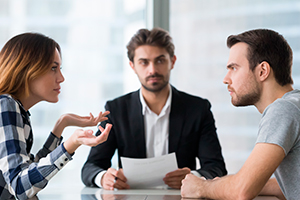 Discovery is a process in divorce and family law where a Party can obtain relevant information and documents from the other Party to the action. Although Parties to a divorce or family law case may request information and documents from the other through the process of discovery, there are rules and limits. Discovery is intended the be a vehicle to obtain necessary information form the other party, but not to cause annoyance, embarrassment, oppression, or undue burden or expense. Thus the discovery requests must have a proper motivation or they abuse the process.
Another form of discovery abuse is when a Party will not provide relevant requested discovery. If a Party does not cooperate with discovery, the other Party can move for a forthwith status conference to compel discovery and for sanctions. There is a formal Motion To Compel Discovery, however most courts prefer an informal status conference on the matter.
Discovery Protections
If an issue involving discovery abuse is brought to the attention of the Court, a court may order:
That requested disclosure or discovery not be obtained;
That there be specific terms and conditions on the discovery; or
That the scope of discovery be limited.
Broadness of Discovery
What information is discoverable is broad in nature and designed to enable parties to find all information relevant to the case. Information is discoverable as long as it is relevant in some way to the claims, or could lead to relevant information.
Interrogatories and Requests For Production of Documents
One common form of discovery is written interrogatories. These are written requests for information. Interrogatories can be pattern, as set forth under the law in standard form, or non-pattern, where one party asks specific questions that they create. If a party objects to answering a particular interrogatory, the objection must be stated in writing and with particularity.
The answers must be signed by the Party responding to them under penalty of perjury. Once served with the requests, a party has 35 days to respond to written interrogatories or to object. Another common form of discovery is requests for production of documents. There are requests that ask the other Party to produce certain documents in their possession. The response time is the same as with interrogatories - 35 days. Any objections must state whether any responsive documents are not being provided and state the grounds for that objection.
Turning Change Into Opportunity in Colorado Springs
A Colorado Springs dissolution/divorce and family law attorney can guide you through Colorado Springs legal matters involving the discovery process by negotiating, mediating and litigating. This allows you to focus on moving forward to a better future rather than on spending your time trying to figure out the overly complex court system. Colorado Springs Divorce and family law matters are difficult to navigate alone. The court system is more complex than it should be. Change can be stressful, however it can often lead to a better future. Janko Family Law helps ensure that your best interests are protected and that you are aware of your legal rights and obligations.
Contact us at 719-344-5523 or complete our online form to set up a free thirty-minute informational consultation. We also have an office in Denver and serve Denver and Aurora and surrounding areas.