Documentary Evidence in Domestic Relations Trials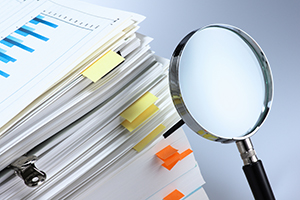 Evidence is required in contested court proceedings to aid in establishing important case aspects. There is a saying in the legal field that "It does not matter what happened, only what the evidence shows." Evidence planning can be difficult for self-represented litigants, because in daily lives we communicate with other people, however rarely do we have to provide proof of our position to others. People either believe us or not depending on their knowledge of us and their thoughts on what we have said. However, in domestic relations cases, testimonial and documentary evidence are presented in hearings. Testimony is what lay or expert witnesses have to say about the case. Documentary evidence pertains to documents that relevant to the case. Common types of documentary evidence in domestic relations cases follow.
In dissolutions, property division is required, therefore evidence of the property and its value is relevant. Additionally, documentation to show what property is separate and what property is marital is important when a person possesses separate property s only marital property can be divided. Evidence to show assets and debts:
Bank account statements
Investment account statements
Account statements to show value of separate assets at acquisition
Valuations and appraisals, particularly for real estate or valuable personal possessions
Income is relevant to calculate spousal maintenance and child support and to aid in determining a person's ability to support him or herself. Evidence to show income:
Pay statements
Employment contracts
Income tax returns
W-2 income statements
K-1 income statements to show business partnership income
1099 statements to show Independent Contractor income
Bank statements showing deposits
Loan applications (showing stated assets and debts for the purpose of obtaining credit)
Sworn Financial Statements (required to be filed in cases involving support or property division)
Disability evaluations (for those who indicate an inability to work due to disability)
Social security statements (showing historical income)
Sometimes evidence would be so voluminous that it is not practical to enter all of it into evidence. In this case summary evidence is permitted. Summary evidence can show, for example:
Expenditures
Income history
Children's medical and or extra-curricular expenses
Child support or maintenance arrears
Employment applications
Parenting can involve disagreements between parents about parenting time and decision-making and what is in the best interests of the children. Evidence for parenting issues:
Child and Family Investigator or Parental Responsibilities Evaluator Report
Academic records
Medical and dental insurance premium documentation
Child support worksheets
Medical records
Proposed parenting plan
Emails or text messages between parents
Communication platform messages between parents
Sometimes a person is inconsistent or dishonest in litigation. It can be important to point out such discrepancies to raise the question of credibility. Evidence to question the other parties information:
Documentation of inconsistent statements
Police reports
Prior Sworn Financial Statements
Discovery responses
Deposition transcripts
Social media postings
Janko Family Law Solutions - Is It Time for a Change?
Divorce and family law matters are difficult to navigate alone. The court system is more complex than it should be. With offices in Colorado Springs, we can guide you through the experience by handling pleading and motion preparation and filing, negotiation, mediation, and court proceedings from start to finish. This allows you to focus on moving forward to a better future rather than on trying to figure out how the overly complex court system works. Remember that change often creates new opportunity and a better future. Janko Family Law Solutions can help ensure that your best interests and the best interests of your family are protected. Contact us at 719-344-5523 or complete our online form to set up a free thirty-minute informational consultation.