Domicile in Colorado Divorce/Dissolution and Family Law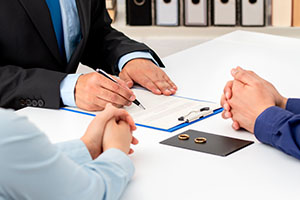 Parties to a divorce must have a connection to the state for the state to issue a decree. At least one party must have been domiciled in the state of Colorado for at least 91 days for a Colorado district court to issue a dissolution decree. The other party can have a connection or can consent to jurisdiction. Domicile means a present intent that Colorado is a person's permanent residence. Simple residency in the state is insufficient.
For example, a military servicemember stationed in Colorado on military orders does not establish domicile simply by being stationed here; there must be additional significant contacts with the state. It is also possible under some circumstances to reside in another state yet be domiciled in Colorado. For example, military servicemembers or those working temporarily out of state may still be domiciled in Colorado depending on their intent to return.
Domicile Factors
If the domicile of a party is contested, a court evaluates factors that show intent to permanently reside in Colorado. A court will consider factors such as possession of a Colorado driver's license, voter registration, vehicle registration, filing a state income tax return in Colorado, or owning property in Colorado. The domicile requirement is designed in part to prevent forum shopping for court judgments.
Federal and State Law
Federal as well as state law often applies to family law matters involving federal military personnel. Domicile and personal jurisdiction are more complex when one of the parties is in federal military service or is a family member as residence is not a clear indicator of domicile for either the military or family member. Generally, domicile requires an intent to remain in Colorado. A court will examine a number of factors in determining intent if domicile is at issue. For example: a military servicemember who had registered to vote in Colorado, registered his vehicle in Colorado, obtained a Colorado driver's license, and intended to live in Colorado after retirement from military service is likely to be determined to be domiciled in Colorado.
Servicemember's Civil Relief Act
Military servicemembers are protected by the federal Servicemember's Civil Relief Act in court proceedings. The Servicemembers Civil Relief Act applies to civil cases, including those concerning dissolution and family law matters. The Act allows for a stay of proceedings under certain circumstances. When a servicemember has received notice of a proceeding and has requested a stay providing the required statutory information, the court shall enter a stay for at least 91 days if the request includes the information required by the statute. To qualify the servicemember must provide:
an explanation as to why military duty prevents participation or appearance;
a potential availability date; and
a letter from the commander stating that military duty precludes attendance, and that leave is not currently available.
A request for a stay does not constitute an appearance or a waiver of any defense. This is important because an entry of appearance can bestow jurisdiction on a court and allow it to issue a default judgment if the servicemember does not participate. A servicemember may request a longer stay if military duty continues to impact the ability to appear. If the court does not grant a longer stay, then the court must appoint an attorney to represent the servicemember in the action or proceeding. Also, if the court finds that the non-appearing party is in the military, then the court may not issue any order adverse to the servicemember's interest without appointing an attorney to represent him or her.
Turning Change Into Opportunity in Colorado Springs
An attorney can guide you through Colorado Springs domestic relations matters by negotiating, mediating and litigating. This allows you to focus on moving forward to a better future rather than on spending your time trying to figure out the overly complex court system. Colorado Springs Divorce and family law matters are difficult to navigate alone. The court system is more complex than it should be. Change can be stressful, however it can lead to a better future. Janko Family Law helps ensure that your best interests are protected and that you are aware of your legal rights and obligations.
Contact us at 719-344-5523 or complete our online form to set up a free thirty-minute informational consultation.