Engagement Rings in Divorce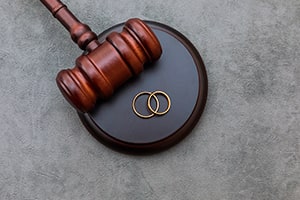 What happens to the engagement ring in divorce? Not all engagements become marriages. Engagement and wedding rings are symbols of love and commitment. They often have both sentimental and monetary value. Does an engagement ring have to be returned if the wedding is called off? You and your former partner can reach any agreement that works for you, however what happens if you can't agree?
State Gift Law
State gift law, in general, often addresses the disposition of rings. Throughout a marriage, a Colorado couple may receive gifts, including real estate, jewelry, money, etc. If the couple divorces, they may disagree about who receives gifted property.
Gifts may be considered separate property or marital property depending on the nature of the gift. They may also be conditional or unconditional. Colorado is an equitable distribution state rather than a community property state, which means property isn't automatically assumed to be owned by both parties.
Gifts To The Individual Or Marriage?
It is important to look at whether the gift was to the individual or to the marriage. Gifts from relatives to a couple may be gifts to the marriage. Most gifts are outright gifts to the recipient, however some may be conditioned on a certain event occurring, such as a marriage. There are no Colorado cases addressing engagement rings specifically, however plausible arguments could be made under general gift law for the following dispositions;
If a couple is already married and then divorce, each keeps their rings. However, if the engagement does not result in marriage, then the disposition depends on who ended the engagement. If the engagement is ended by the person with the ring, then generally the ring is to be returned to the giver. However, if the engagement is ended by the giver, then the recipient may keep the ring. Engagement rings are considered gifts in contemplation of marriage. There are some exceptions, however.
If the person with the ring ended the engagement due to misconduct relating to the pending marriage of the giver, such as having another romantic relationship, then the recipient can keep the ring. Other causes of misconduct might be domestic violence or abandonment of the relationship. Historically a person could be sued for ending an engagement, however that is no longer the case. Formerly these were called "Heat Balm" suits.
Turning Change Into Opportunity
How can an attorney help? An attorney can assist you in high conflict divorce and family law matters by helping you navigate through challenges. Legal issue identification can be difficult for those without an in-depth knowledge of the law.
A Colorado Springs divorce and family law attorney can guide you through high conflict divorce by negotiating, mediating and litigating. This allows you to focus on moving forward to a better future rather than on spending your time trying to figure out the overly complex court system. Contact us at 719-344-5523 or complete our online form to set up a free thirty-minute informational consultation.