Expert Witnesses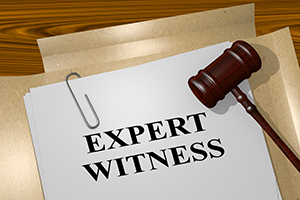 In the course of domestic relations cases, sometimes expert witness testimony is required. Common experts are vocational evaluators, forensic accountants, parental responsibilities evaluators (PREs) and child and family investigators (CFIs). These experts conduct specialized evaluations in their areas of expertise, write analytical reports and then may testify in court as to their analysis and conclusions.
Sixty three days in advance of a hearing, each party must disclose any expert witness whom they intend to call at hearing. Shortly thereafter, fifty six days before hearing, they must provide the other party a copy of any report to be admitted as evidence. Report timelines are often shorter for PREs and CFIs. CFI reports can be submitted as soon as only 21 days before hearing.
Common Types of Experts
Vocational evaluators can make recommendations about the employability of a party. forensic evaluators can identify income streams and hidden assets. Parenting evaluators can make recommendations to the court about parenting plans and decision-making when the parties can not agree.
Forensic accountants might review income tax returns, business financial statements, bank account statements, cancelled checks, credit card statements, business contracts, credit applications and more. A forensic analysis may be particularly helpful when one spouse has not historically been involved in the couple's financial affairs, and requires specialized assistance in understanding the financials.
Individual and Joint Experts
The experts can either be individual experts or parties can jointly agree to an expert. Parenting experts are appointed by the Court, though Parties can agree on the need for a parenting expert and/or the identity. The Court can also appoint other experts if the parties can not agree on the necessity for an expert or agree on a particular expert. Each party is free to hire a rebuttal expert ,time permitting, if that party disagrees with something in the experts report. Expert witnesses are paid by the requesting party or parties. The Court is not obligated to accept the analysis or conclusions of an expert.
Experts are helpful when specialized testimony is necessary. Parties can present facts, however can not present specialized opinions. Even expert witnesses have to explain their qualifications to conduct an analysis and make a recommendation before testifying as to their conclusions. It is important to be engaged with experts because you know the most about your life and have valuable insights that will help the experts to understand the information provided to them and that they find.
Turning Change Into Opportunity in Colorado Springs
A Colorado Springs dissolution/divorce and family law attorney can guide you through Colorado Springs legal matters involving the discovery process by negotiating, mediating and litigating. This allows you to focus on moving forward to a better future rather than on spending your time trying to figure out the overly complex court system. Colorado Springs Divorce and family law matters are difficult to navigate alone. The court system is more complex than it should be. Change can be stressful, however it can often lead to a better future. Janko Family Law helps ensure that your best interests are protected and that you are aware of your legal rights and obligations.
Contact us at 719-344-5523 or complete our online form to set up a free thirty-minute informational consultation. We also have an office in Denver and serve Denver and Aurora and surrounding areas.