Expert Witnesses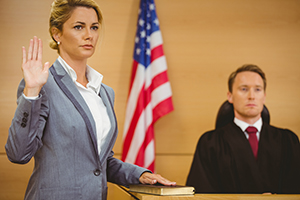 So you have decided to accept the challenge of representing yourself. It is important to learn about the types of evidence that can help you prove your case. Witness testimony is a common type of evidence. Sometimes the evidence needed is beyond common knowledge or technical and must be presented by a witness with special expertise – an expert witness. An important distinction between a lay and expert witness is that an expert witness can offer an opinion. Experts can also be useful in consulting about specialized matters for case preparation. In family law matters, experts often value real property and retirement plans as well as offer opinions of parenting time.
Timelines
Expert witnesses must be disclosed 63 days prior to trial and a summary of their testimony provided 56 days prior. Rebuttal expert witness reports must be provided within 21 days after disclosure of the expert witness report. An expert must be qualified to present specific testimony by reason of:
Knowledge
Skill
Expertise
Training, or
Education
Retained Expert's Report
A retained expert will write a report of his or her findings and may testify at trial if the findings are disputed by either party. The report must include:
A statement of opinions and the basis for them
Identification of professional publications that may be used during testimony
Copies of any exhibits to be used
Qualifications to include publications authored
The fee agreement
An itemization of fees incurred and time spent on the case
A list of other cases where the witness has testified as an expert
Rules of Evidence
The rules of evidence govern expert witness testimony. A trial court may admit expert testimony if it will assist the trier of fact to understand the evidence or to determine a fact in issue. The expert must be properly qualified by a combination of characteristics above to provide the specialized testimony. Also, the expert must form an opinion based on facts rather than speculation or other opinions. In order to be admissible, the scientific principals underlying the testimony must be reasonably reliable and the expert must be qualified to offer an opinion on those matters. This is why polygraph evidence is not admissible – because it is not based on reasonably reliable scientific principles. There is great variation in polygraph results and the results can be influenced by the test taker.
There are three ways by which an expert witness can obtain knowledge that will be the basis for the opinion:
First-hand observation
Facts presented at trial
Facts outside the record that are reasonably relied upon by experts in the same field
Is it time to turn change into opportunity? At Janko Family Law we know how to work with you to reach your litigation goals. We are committed to assisting you with pursuing settlement to preserve family relations to the maximum extent possible, however also can advise on representing your interests in contested litigation if desired or necessary. Give us a call for a complimentary case assessment at 719-344-5523, or fill out our confidential online intake form.