Federal Employee Retirement System and 401K Retirement Plans in Dissolution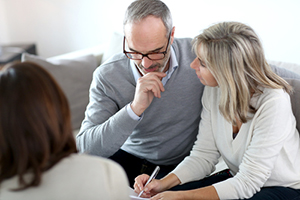 In dissolution, it is necessary to determine how to divide property, to include retirement accounts. Retirement plans can be valued at a present value and then offset against other assets to buy a spouse out of their interest in the plan. This results in the employee spouse retaining complete ownership in his plan. Alternatively, the plans can be divided at retirement.
There are many different types of retirement accounts, each unique and valued or divided differently. The Federal Employee Retirement System (FERS) plan and 401K plans are two such plans. Retirement plans can be separate or marital property or both. Any portion of the retirement earned before the marriage is separate. Any portion earned during the marriage is martial. Plans can have both separate and marital components, for those employees enrolled in a plan before marriage.
FERS Requirements
In order for retirement plans to be divided, the decree has to include a court order providing for the division and specifying how it will occur. Without a court order dividing the retirement, the employee will retain the entire retirement. Retirement benefits are calculated in part on the length of employee service. In a dividing order, each spouse will receive 50% of the marital interest. The marital interest is comprised of the value of the time where service overlapped with the marriage. The spouse only receives his portion upon retirement of the employee. The actual value of a divided benefit will not be known until the benefit is actually received as there are many variables involved such as length of time of service. A spouse qualifies for cost-of-living adjustments if the court order provides for them. Not all retirement plans have cost of living benefits, though FERS does.
Related FERS Retirement Plan Benefits
A court order can award a former spouse survivor benefits as well. However, if he remarries before age 55, he will no longer be eligible. A court can also require one spouse to assign life insurance benefits to a former spouse to secure the retirement. The former spouse may also be entitled to the government's employee health-insurance program and to a death benefit depending on the number of years of marriage and service.
401K Plans
A 401(k) plan is a common retirement plan. Like other retirement plans, a 401K can be valued at a present value and offset with other assets or it can be divided at retirement. A specific kind of order is necessary to divide a 401K Plan – a Qualified Domestic Relations Order (QDRO). QDRO drafting is a specialized field so most family law attorneys do not draft them and refer clients to drafting specialists. A QDRO must address specific retirement plan requirements as well as the dissolution terms. The employee must provide a QDRO signed by a court it to the plan provider.
The recipient spouse owns his or her interest in the account as soon as the 401(k) is divided and that interest will grow separately from the spouse's interest. The employee may continue to invest in his or her portion of the plan. However, the spouse may need to rollover the interest 401(k) into a separate plan, if not employed by the same employer. There may be no tax or early withdrawal consequences of dividing a 401K by court order, whether the recipient spouse rolls the interest over or cashes it out, depending on how the QDRO is drafted and the age of the spouses.
Is it time for a change? At Janko Family Law we work with you to reach your transition goals. We are committed to pursuing settlement to preserve family relations, however also zealously represent your interests in contested litigation if desired or necessary. We can also handle appeals if the event that the trial court errors in fact or law. Call for a complimentary case assessment at 719-344-5523, or fill out our confidential online intake form.