Intersection Between Criminal and Family Law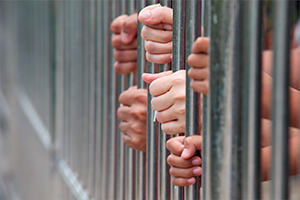 Criminal proceedings involving allegations of family violence can complicate family law cases. In such cases, families are often physically separated and the parents can not contact each other due to a restraining order. This means that communications go through attorneys creating additional expense.
The restrained parent, may have to interact with multiple governmental entities, such as the police, defense attorneys, courts, probation officers, and the Department of Human Services. The involvement may cause disruption in the ability to work full time. Criminal convictions can result in the loss of employment or professional licenses causing additional negative economic impact on the family. Driving privileges can be restricted for those who have committed alcohol or drug-related driving offenses.
Fifth Amendment Right to Remain Silent
The Fifth Amendment of the U.S. Constitution provides a protection against self-incrimination. The protection is also applied in quasi-criminal civil cases depending on possible sanctions. In family law it is most often seen in punitive contempt, domestic violence and child abuse proceedings as well as in motions to restrict parenting time. In Colorado, if imprisonment is a possible sanction, the Fifth Amendment privilege is available. A person asserting the privilege is not required to take the witness stand at all. Unlike in a criminal case however, a civil court may draw an adverse inference against a party asserting the Fifth Amendment. The provision of documents is also protected, however public documents are not protected. Colorado state tax returns are considered to be public domain and may be subpoenaed.
When a person is court-involved in more than one case, consideration should be given as to the impact of testimony in one case on the other. Evidence given in one case may be able to be used in another, though there are limitations on using evidence from dependency and neglect cases.
Domestic Violence and Parental Decision-Making
A court must consider any allegations of domestic violence in making parental decision-making determinations. A civil court uses a preponderance of the evidence standard. If the court finds domestic violence, then it is not in the child's best interests to allocate joint decision-making if one parent objects unless the court finds credible evidence that the parents can still cooperate constructively in decisions about the children. This determination and legal standard also applies to child abuse.
Turning Change Into Opportunity in Colorado Springs
An attorney can guide you through Colorado Springs divorce and family law matters by negotiating, mediating and litigating. This allows you to focus on moving forward to a better future rather than on spending your time trying to figure out the overly complex court system. Colorado Springs Divorce and family law matters are difficult to navigate alone. The court system is more complex than it should be. Change can be stressful, however it can lead to a better future. Janko Family Law helps ensure that your best interests are protected and that you are aware of your legal rights and obligations.
Contact us at 719-344-5523 or complete our online form to set up a free thirty-minute informational consultation.