Parenting Time and COVID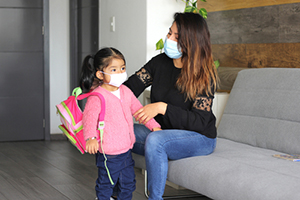 COVID has changed the way that we live our everyday lives and many questions about parenting time have arisen. However, Governor Polis' Stay At Home Order allows parenting time exchanges to continue, and absent endangerment of a child, parents must continue to comply with court orders. If there is a concern about endangerment, then a parent should file an emergency motion. Emergency motions are still being heard in the courts. Additionally, parties can modify orders by mutual written agreement with regards to modifications to accommodate safer exchanges.
CDC Recommendations and the Stay At Home Order
It is important that parents comply with CDC recommendations to include wearing masks, social distancing, and only leaving home when necessary, among others. Examples of necessary activities currently as of April 23, 2020 are: medical treatment, obtaining household supplies or items to work from home, outdoor exercise while observing social distancing, or performing critical work. However, this Sunday, the Governor is scheduled to issue a new "Safer at Home" Order which will male some modifications.
Critical Businesses include health care, critical infrastructure or manufacturing, retail - grocery stores, gas stations, services - trash, utilities, day care, laundromats, media, and others. Some legal work is also considered critical to include certain court proceedings for attorneys and court staff, unless appearances can be done remotely. Some protection orders matters are now being heard remotely. Liquor stores and marijuana dispensaries are also permitted to be open.
Travel Required By Court Order
Travel required by law enforcement or court order is permitted, which includes exchanging children for custody purposes while observing safe social distancing.
Endangerment Related To COVID-19
The Courts are in unchartered territory with regards to pandemic-related endangerment and each case will turn on its unique facts. Under Colorado law, a fit parent is presumed to be acting in the best interests of the children during his/her parenting time. However, that is a rebuttable presumption and parents can ask courts can modify orders to protect the children.
Some situations of concern
Activities with the children that violate CDC recommendations, such as attending gatherings and not engaging in social distancing are of concern with regards to parenting time. Also, activities with the children that break the law such as violating the stay at home order by taking the children out for activities that are not necessary.
Emergency Matters
Courts are still hearing emergency matters to include restrictions on parenting time, abduction prevention measures, and protection orders. Upon filing a motion to restrict parenting time, the other parent's parenting time is automatically restricted for up to two weeks until hearing. The legal standard is endangerment, and the bar to establish this is high. If you believe that the children are endangered in the other parent's care, you should speak with an attorney.
Janko Family Law Solutions is still open for business during the COVID-19 Stay At Home Order. Legal needs continue, despite COVID, and we can assist in addressing them. We can speak with you by phone and have Zoom Conference available as an option as well. If you have questions about parenting time restrictions, contact Janko Family Law Solutions for a free case assessment to determine what your legal options are and how we might assist you in turning change into new opportunity. We can be contacted at 719-344-5523.