Paternity Actions and the Military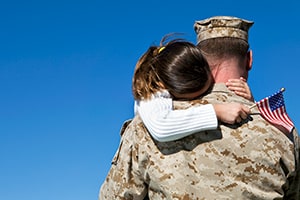 Establishing paternity means that a legal decision is made that a certain man is the father of a child. If paternity is established, a child gains legal rights and the parent incurs legal obligations of support and care. Among the rights a child may obtain are to inheritance, medical and life insurance benefits, social security, and veterans' benefits.
Paternity can be established any time up to an adulthood. Sometimes paternity is presumed, such as when the Father's name is on a birth certificate or the child was born during a marriage. It is also possible to voluntarily acknowledge paternity in a signed writing. If paternity is denied, a court may order paternity testing. The test results can be used to establish or rule out paternity. The public policy reason for this is to ensure that parents are supporting children to the maximum extent possible rather than taxpayers.
Paternity and the Military
If there is a court order establishing paternity or a Father acknowledges paternity in writing, then a military Father is eligible for dependent benefits, to include additional pay and an identification card for the dependent for purposes of medical care and other benefits. That service member is also obligated to support the dependent. If pay is to be garnished for support, then a court order is required, though military regulations establish some support requirements in the interim before a court order is obtained.
The Child Support Enforcement Program
The Child Support Enforcement (CSE) Program is a government program to establish paternity and to collect child support. Programs are responsible for locating parents, establishing paternity, establishing and enforcing support orders, and collecting child support payments.
Garnishment
Once paternity is established, wages can be garnished if a child support order is not complied with. Federal law authorizes the garnishment of pay and state law creates procedures for requesting and obtaining garnishment. Many child support order automatically require garnishment to avoid issues of nonpayment and garnishment in the event that the Father does not pay support.
Paternity Actions in Colorado
If you were married at the time of the baby's birth, or if the baby was born within 300 days after the marriage ended, paternity is presumed. The father of the child can agree that he is the father and sign an affidavit stating such. The father can also consent to being named as the baby's father on the child's birth certificate.
In order to bring a paternity action the mother must file a court action and have the Father served with notice of the action. Generally the case is brought in the county wherein suspected Father resides. If a DNA test results in a 97% or higher probability of parentage, paternity is often presumed. Once paternity is established, there is a separate process to establish allocation of parental responsibilities AKA child custody.
Turning Change Into Opportunity in Colorado Springs
How can an attorney help in military divorce and family law matters? A Colorado Springs divorce and family law attorney can guide you through the Colorado military divorce process. This allows you to focus on moving forward to a better future rather than on spending your time trying to figure out the overly complex court system. Contact us at 719-344-5523 or complete our online form to set up a free thirty-minute informational consultation.