Premarital Agreements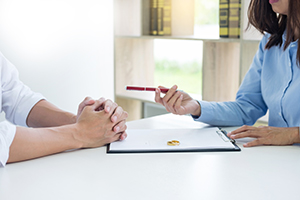 It may be desirable to enter into an agreement in contemplation of marriage the ensure some level of certainty as to disposition of assets in the event of a divorce/dissolution. Colorado has adopted the Uniform Premarital and Marital Agreements Act (UPMAA), which governs premarital and marital agreements. An agreement can be entered into either before marriage or after, though each has a different name, purpose and requirements. A premarital agreement and a prenuptial agreement are the same and are entered into prior to marriage. A marital agreement and postnuptial agreement are the same and are entered into after marriage. The agreements are contracts between the parties and enforceable as such. They are typically signed when one or both of the parties have substantial separate property or income.
One party may be economically advantaged, or the parties may both have substantial assets. If there is an economically advantaged party, his or her interest may be in retaining value of assets, and the interest of an economically disadvantaged party may be future financial security. Future financial security may particularly be an interest if the economically disadvantaged party will be giving up the ability to further a career to raise a family, for example.
The agreements allow parties to set forth specific rights and obligations during their marriage to address property and financial issues in the event of the couple's legal separation, dissolution, or death. Parties can waive statutory rights as long as such waivers are not unconscionable. Any provision that would result in one spouse going on public assistance is likely to be viewed as unconscionable.
Premarital and marital agreements can play a significant role in the financial outcome of divorce/dissolution events and are often intended to reduce future costs. Financial disagreements are one of the most common causes of dissolution, and these agreements allow for financial matters to be addressed in advance, creating more predictability.
Purpose of a Premarital or Marital Agreement
A marital agreement can offer security and manage expectations by identifying the future disposition of assets and debts and reduce the costs of addressing these issues later. A premarital or marital agreement may address the following marital rights and obligations:
Spousal maintenance;
Property division;
Debt allocation; and
Attorney's fees.
Eve of marriage agreement execution might impact enforceability depending on the facts. In 1982, the Colorado Supreme Court decided that properly drafted premarital and marital agreements are not contrary to public policy. Premarital agreements are entered into between individuals who "intend to marry", and marital agreements are entered into between spouses who "intend to remain married".
Premarital Agreements identify the assets and debts of both parties in an upcoming marriage and explain how property will be divided and how any support of a party would be handled in the event of legal separation, death or divorce. The agreement can address children's and grandparents' rights as well, with some limitations based on a court's continuing jurisdiction over matters involving children.
Marital Agreements may be a beneficial option for couples who did not enter into a premarital agreement prior to marriage, and now desire to set forth rights and obligations. Such agreements can also address changed financial circumstances, such as a large inheritance or the creation of a business.
For the most part state law will apply to premarital and marital agreements, however federal law may govern some aspects as well. For example, federal law applies to federal benefits, to include federal retirement plans, such as the Federal Employee Retirement System (FERS) plans provided by federal government agencies. Federal law also applies to private benefits that are approved for favorable federal tax treatment, such as 401K retirement accounts. Military benefits for federal servicemembers are also regulated by federal law. Finally, Social Security, Medicare and bankruptcy are all governed by federal law.
Turning Change Into Opportunity in Colorado Springs
An attorney can guide you through Colorado Springs domestic relations matters by negotiating, mediating and litigating. This allows you to focus on moving forward to a better future rather than on spending your time trying to figure out the overly complex court system. Colorado Springs Divorce and family law matters are difficult to navigate alone. The court system is more complex than it should be. Change can be stressful, however it can lead to a better future. Janko Family Law Solutions helps ensure that your best interests are protected and that you are aware of your legal rights and obligations.
Contact us at 719-344-5523 or complete our online form to set up a free thirty-minute informational consultation.