Premarital and Marital Agreement Procedural Requirements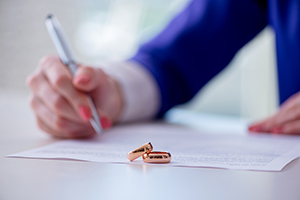 Premarital and marital agreements must be in writing and signed by both parties. Verbal agreements are insufficient. A premarital agreement becomes effective upon marriage, and a marital agreement is effective on signature by both parties. There is a presumption that a premarital or marital agreement is valid, and the burden of proof is on the party seeking to avoid enforcement to show otherwise. Standard contract defenses apply in regards to an agreement contest. For example, a signatory may allege incompetency, misrepresentation, duress, undue influence, unconscionability, abandonment, or waiver.
Enforceability
Agreements may not always be enforceable. Three common defenses to enforceability of agreements are involuntariness and duress, lack of access to independent legal representation, and lack of adequate financial disclosure. An agreement is unenforceable if it was not entered into voluntarily. A party's consent must be voluntary and not the result of duress. Timing may be important. If signing occurs too close to the wedding, a post-marital agreement may be a better option than a premarital agreement. If enactment occurs too close to the wedding, there is a risk that the agreement could be later found to have been entered into under duress.
Access to independent legal representation is a requirement for a premarital or marital agreement. The agreements are unenforceable if a party did not have such access. There is no requirement that the party actually consult with counsel, however. Coercion may be relevant. Each party must have a reasonable amount of time before signing the agreement to consult with an attorney and must be reasonably able to afford the expense. For this reason, a higher-income party may fund the legal expense for both. Although only access to counsel is required, the best practice is that both parties actually consult with counsel. This results in the most enforceable agreement.
The agreement is unenforceable if a party did not receive adequate financial disclosure. A party has adequate financial disclosure if the party:
Receives a reasonably accurate description and good faith estimate of value of the property, liabilities, and income of the other; or
Has adequate knowledge or a reasonable basis for having adequate knowledge of the value of the property, liabilities, and income of the other.
Disclosure or knowledge of income is specifically required. A person may have actual knowledge of income and assets, for example, in a case where the parties are already married. A sworn financial statement with supporting documents is the best practice in disclosure, however there is no specific requirement for that method of disclosure as there is in legal separation and dissolution actions. Robust disclosure can prevent financial surprises and aid in creating fair agreements.
Not all agreement terms are enforceable. Unenforceable terms are those that:
Adversely impact child support;
Limit or restrict a legal remedy available to a victim of domestic violence;
Modify the grounds for a legal separation or dissolution;
Negatively impact a party's ability to initiate a legal proceeding for legal separation or dissolution; or
Violate public policy.
Notice of Rights Waiver
A notice of rights waiver is required and must be conspicuously included in the agreement. The agreement is unenforceable if an unrepresented party did not receive a notice of rights waiver. Common waiver language includes a statement that the parties may be:
Giving up a right to be supported by the person he or she is marrying or to whom he or she is married;
Giving up the right to ownership or control of money and property.
Agreeing to pay the others bills and debts;
Giving up your right to money and property;
Giving up the right to have legal fees paid.
Turning Change Into Opportunity in Colorado Springs
An attorney can guide you through Colorado Springs domestic relations matters by negotiating, mediating and litigating. This allows you to focus on moving forward to a better future rather than on spending your time trying to figure out the overly complex court system. Colorado Springs Divorce and family law matters are difficult to navigate alone. The court system is more complex than it should be. Change can be stressful, however it can lead to a better future. Janko Family Law Solutions helps ensure that your best interests are protected and that you are aware of your legal rights and obligations.
Contact us at 719-344-5523 or complete our online form to set up a free thirty-minute informational consultation.