Requests For Production of Documents, Physical and Mental Examinations and Admission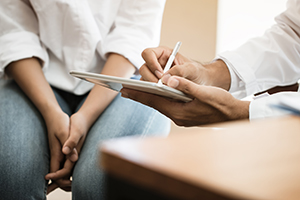 When you are involved in a Colorado Springs dissolution/divorce or family law matter, sometimes you may require information that is in the possession of the other party. There is a discovery process wherein you can ask the other party to produce documents or to admit facts. Once you make the request, the other party has 35 days to produce the documents or respond to the statements. The Court can even require a party to undergo a physical or mental examination if a person's physical or mental condition is at issue.
Physical and Mental Evaluations
A court-ordered physical or mental examination may occur in the event that a party claims that they can not work due to disability, or in the case where it is not clear what a party is capable of earning upon dissolution. The first examination might be a functional assessment examination where a doctor makes a determination as to the impact of a physical or mental condition on a person's ability to work. The second would be a vocational examination where an evaluator would consider what type of work a person might be qualified for in the local economy. The requester must establish good cause for the court to order such examinations. Notice to the other party is required and must specify the time, place, manner, conditions, and scope of the examination.
Requests for Admission
Though not commonly used, it is possible to request admissions of facts from the opposing party. To accomplish this, the requesting party sends the other party a list of statements. The benefit to the requesting party is that if the other party admits to a fact, then it is not necessary to prove that fact at trial. However, requests for admission can tip off the other party off as to trial strategy.
If a person does not answer the Requests For Admission, then the statements are under law determined to be admitted as true. The responding party can object to the question, however only utilizing standing objections that are considered valid under the law. Objecting simply because a party does not want to answer the question is not considered a valid objection. If no objection is made, then the party must admit or deny the statement presented in the request.
Turning Change Into Opportunity in Colorado Springs
A Colorado Springs dissolution/divorce and family law attorney can guide you through Colorado Springs legal matters involving the discovery process by negotiating, mediating and litigating. This allows you to focus on moving forward to a better future rather than on spending your time trying to figure out the overly complex court system. Colorado Springs Divorce and family law matters are difficult to navigate alone. The court system is more complex than it should be. Change can be stressful, however it can often lead to a better future. Janko Family Law Solutions helps ensure that your best interests are protected and that you are aware of your legal rights and obligations.
Contact us at 719-344-5523 or complete our online form to set up a free thirty-minute informational consultation.