Spousal Maintenance Highlights Article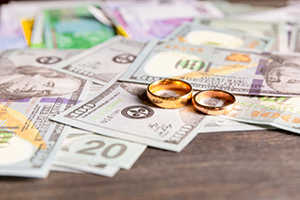 Spousal maintenance is an important issue in many dissolutions. In many states it is called alimony. The current trend is towards "rehabilitation" – financial support for shorter periods of time to allow a former spouse to become self-supporting. Courts rely on advisory guidelines for spousal maintenance so any award to include amount and duration aspects are discretionary. Because of the discretion involved, this is an area where parties can present arguments to a court to ask for more or less maintenance that the guidelines show. An attorney's knowledge of the maintenance factors and viable argument can be especially helpful in discretionary areas such as this.
Maintenance awards can be temporary or permanent and are modifiable unless the parties agree that they are nonmodifiable. Maintenance can be paid over time or all at one time in a lump sum. Generally, a marriage of at least three years is required for a maintenance award. It is not common for awards to be given for marriages of less than three years, however in unusual circumstances, such as one party giving up professional employment and relocating to another state for the marriage, it can occur. Maintenance generally terminates at remarriage or death but not at cohabitation unless the parties agree otherwise.
To determine maintenance, the Court evaluates:
Each party's income
The marital property awarded to each party
Each party's financial resources
Reasonable financial need as established during the marriage

This contemplates the standard of living during the marriage so can vary widely
Nominal Award
If not requested at permanent orders, maintenance is waived. There is a way to preserve the ability for a future maintenance request and that is by a nominal award of maintenance at dissolution. Some reasons why parties may want to preserve the ability to request maintenance are temporary unemployment or illness that could impact future employability and self-support capacity.
Threshold Test
In order to award maintenance a court must find that:
The recipient can not financially meet his or her reasonable needs, or
The recipient is unable to support him or herself through appropriate employment or is caring for a child under circumstances that would make employment inappropriate
Reasonable needs may be determined by the standard of living during the marriage. Appropriate employment is employment reasonably suited to each individual based on his or her educational and occupational background.
Modifications
It is not unusual for changed circumstances to necessitate maintenance modifications. The legal standard is that there are substantial and continuing changed circumstances that make the existing order unfair. For example, if the paying party becomes injured and can no longer work on a long-term basis, the original payment requirement would be unfair. Another common change is retirement. Upon retirement, a party generally faces a substantial income reduction and can not continue support payments at the same rate as while working and earning a salary.
Are you looking for a Family Law Attorney who understands the importance of financial support? At Janko Family Law we know family law and how to obtain a solution that will turn change into opportunity. Give us a call for a complimentary case assessment at 719-344-5523, or fill out our confidential online intake form.