Subject Matter Jurisdiction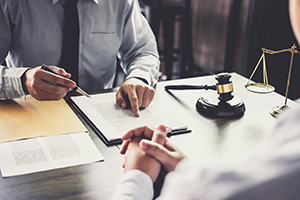 There are certain requirements in order for a Colorado court to issue a dissolution decree. The court can enter a dissolution decree when finding that the parties' marriage is irretrievably broken, at least one party was domiciled in Colorado for at least 91 days, and at least 91 days have passed since the court acquired jurisdiction over the responding party. When a court enters the decree, it can be appealed in the event of an error of fact or law. A court must also simultaneously issue orders on related issues of parental responsibilities/custody, spousal maintenance, and property division. However, sometimes the court can decide some of the issues at a later time, however this is not common.
Additionally, a state court does not necessarily have jurisdiction over all aspects of a dissolution matter, if some aspects are subject to federal law. For example, a court may have jurisdiction to issue a dissolution decree, though not jurisdiction over matters involving a child who has lived in another state for more than six months as Colorado would not be the child's home state under federal law. A party may contest subject matter jurisdiction at any time.
An in-person hearing is not always required. The court can enter a decree of dissolution without appearance of the parties if they have reached a complete agreement and, if there are children, both parties are represented by counsel. The court can decide to hold a hearing or not. Courts retain the ability to review agreements for unconscionability and are not bound by the parties' agreement.
Financial disclosure requirements apply to all dissolutions, to include decrees issued without the appearance of the parties. This means that both parties in a dissolution matter must provide full and complete financial disclosure of his or her assets and liabilities. This is done through the preparation and filing of sworn financial statements and a certificate of compliance with mandatory disclosures. Additionally, the parties must provide each other with the documents required by the mandatory disclosure requirement. The reason for this is so that the parties are in a good position to enter into agreements on financial matters, which they can only do with a comprehensive knowledge of assets and debt.
Turning Change Into Opportunity in Colorado Springs
An attorney can guide you through Colorado Springs domestic relations matters by negotiating, mediating and litigating. This allows you to focus on moving forward to a better future rather than on spending your time trying to figure out the overly complex court system. Colorado Springs Divorce and family law matters are difficult to navigate alone. The court system is more complex than it should be. Change can be stressful, however it can lead to a better future. Janko Family Law helps ensure that your best interests are protected and that you are aware of your legal rights and obligations.
Contact us at 719-344-5523 or complete our online form to set up a free thirty-minute informational consultation.