Sworn Financial Statements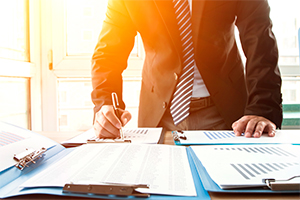 There are many steps in a domestic relations case. To start, one or both parties file a Petition. The Petition could be for dissolution of marriage or allocation of parental responsibilities, for example. Then comes service of process where the non-filing Party provides a copy of the filing to the other. After that, financial disclosure is an important component in domestic relations cases. Each party is required to provide the other with a Sworn Financial Statement and mandatory disclosure documents.
In order to negotiate knowingly and fairly, it is important that Parties have complete and accurate financial information. The disclosures are detailed and comprehensive. Plan to spend a good amount of time gathering financial information in the process. Sworn financial statements must be exchanged no later than 42 days after service of the Petition or a post-decree motion involving financial issues. However, if they are not exchanged by the Initial Status Conference, then an additional two weeks is often granted. Keep in mind that the financial statement is being filed under penalty of perjury. The information on the statement is gathered from financial documents that are also provided to the other party.
The Sworn Financial Statement is one of the most important documents filed in a case. It is the basis for division of assets and debt. Credibility may be irreparably damaged if the Sworn Financial Statement is not accurate. Keep in mind as well that financial statements may be filed more than one time during the course of a proceeding. Statements are filed initially and then they are filed again prior to a final orders hearing if the case is not resolved through negotiation or mediation. They may also be updated prior to mediation as well or updated documents may simply be exchanged prior to mediation.
There is a duty of continuing disclosure so when income or expenses change substantially, updates are required. A preparer should be ready to explain any changes that occur over time as shown in the financial statements. A review of financial statements can reveal changes and sometimes dissipation of assets. For example, if an asset exists on the initial financial statement, but does not exist on a subsequent statement, there may be inquiry as to the disappearance of the asset. This is another reason to ensure that the statements are accurate and supporting documentation is gathered.
Turning Change Into Opportunity in Colorado Springs
An attorney can guide you through Colorado Springs domestic relations matters by negotiating, mediating and litigating. This allows you to focus on moving forward to a better future rather than on spending your time trying to figure out the overly complex court system. Colorado Springs Divorce and family law matters are difficult to navigate alone. The court system is more complex than it should be. Change can be stressful, however it can lead to a better future. Janko Family Law Solutions helps ensure that your best interests are protected and that you are aware of your legal rights and obligations.
Contact us at 719-344-5523 or complete our online form to set up a free thirty-minute informational consultation.