Standards of Review
Domestic Relations Appeals Standards of Review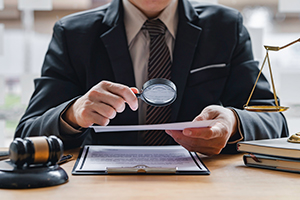 Trials don't always go your way in family court. If not, you may be able to appeal the decision based on an error in fact or law. An appeal can be taken when an individual believes the decision made in a lower court case was not correct. In this case you can ask the Colorado Court of Appeals to review the case in hopes of obtaining a different outcome or verdict. Usually only a final order can be reviewed. There are different standards of review that govern appeals. The standard of review determines how much credit the appellate court will give to the trial court decision.
Standards of Error
There are three standards of error that an appellate court will use to evaluate a trial court decision:
Clear error
Abuse of discretion
De novo
Clear error applies to findings of fact. A factual finding is clearly erroneous if it does not have any factual support in the record. The record is comprised of the trial court pleadings and a transcript of the proceedings. The appellate court reviews the record to find support for factual findings. The trial court has a certain amount of discretion however, and does not have to accept testimony as true even. The appellate court will not substitute its judgment for that of the trial court judge because it did not hear the presentation of the facts and observe party and witness demeanor as the trial court did.
A lower court abuses its discretion when it issues a decision that is manifestly arbitrary, unreasonable, or unfair, or does not correctly apply the law to the facts. Most procedural rulings are subject to the abuse of discretion standard. For example, allowing or refusing to allow an amendment of pleadings is a matter of procedure. Abuse of discretion is the most deferential standard to the trial court. De novo review applies to questions of law. The appellate court does not defer to the trial court on questions of law and decides those as though they had not previously been heard. For example, interpretations of constitutional provisions or statutes are matters of law. De novo review is the least deferential standard of review.
Preservation
A party must preserve a claim of error in order to ask an appellate court to review it. This means that the issue must have been raised and ruled on during the trial phase. It is not possible to introduce new facts and issues at the appellate level that had not been heard and considered below. However two exceptions are that claims involving subject matter jurisdiction and standing can be raised for the first time on appeal.
Janko Family Law - Is it Time For a Change?
Divorce and family law matters are difficult to navigate alone. The court system is more complex than it should be. With offices in Colorado Springs, we can guide you through the experience by handling pleading and motion preparation and filing, negotiation, mediation, and court proceedings from start to finish. This allows you to focus on moving forward to a better future rather than on trying to figure out how the overly complex court system works. Remember that change often creates new opportunity and a better future. Janko Family Law can help ensure that your best interests and the best interests of your family are protected. Contact us at 719-344-5523 or complete our online form to set up a free thirty-minute informational consultation.