Military Disability Payments in Divorce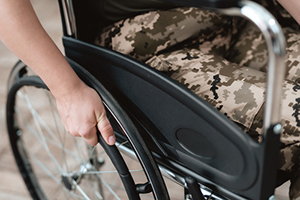 There are several unique aspects of military divorce and family law; disability pay being one of them. Military divorce and family law is unique because federal law as well as state law governs many aspects. When a veteran has a service-connected disability, he may be entitled to receive disability payments from the Department of Veterans Affairs. Payment is not automatic and a veteran must apply and undergo medical examinations to determine whether a disability rating is appropriate and what that rating will be. One substantial benefit of receiving disability pay is that it is not taxable. The Veterans Administration (VA) awards a disability rating between 10% and 100%, which, along with the number of family members, determines the disability pay amount.
Although disability pay is not divisible as marital property, it is considered to be income for spousal and child support purposes. Many veterans are surprised to find this out. The Colorado Court of Appeals has specifically ruled that treating VA disability payments as income is allowable. For example, social security disability payments are also considered to be income for support purposes.
Federal law does not authorize states to treat VA disability payments as marital property and divide them in a dissolution of marriage action. However, the U.S. Supreme Court has determined that VA disability payments are intended not just to support the veteran but also their families. This rationale is why such payments are considered as income for support purposes.
VA Disability
Retirement and disability pay can be intertwined. However, a person does not have to be retired to receive disability pay. Federal law prohibits "concurrent receipt" of both VA Disability and military retirement payments. However, a military retiree with a disability rating of 50% or higher receives both full retirement and disability pay under the federal concurrent retirement and disability pay program (CRDP).
So, for example, a retiree with a 50% or higher disability rating receives both his full military retirement pay and his full disability payment. The retirement payment is divisible as property, while the disability payment is not. Being divisible as property means that a former spouse can be awarded a percentage of the servicemember's retirement pay.
Indemnity or Offset
A retiree with a disability rating of 40% or lower can choose to offset retirement pay to receive that portion in disability pay. This means that he would receive a portion of his retirement pay in the form of disability pay. This reduces taxes as disability pay is not taxed. A state court does not have the authority to require a retiree with a 40% disability rating or lower to indemnify the former spouse for the reduction in that spouse's share of the retirement due to the receipt of disability. This means that a court can not require a retiree to pay the former spouse for the value of disability pay from other assets to compensate for the loss of the disability portion of the retirement.
When a servicemember is already retired or separated from service at the time of divorce, the amount and composition of disability pay is generally known at that time. However some retirees or those separating from service do not apply right away for disability payments. There is no time limit and a veteran can apply for disability pay at any time. When a servicemember is not yet separated, then disability pay is an unknown and a matter to be addressed at a later time.
Explore Your Options with Janko Family Law in the Colorado Springs Areas
Our approach: We work as a team to provide you with the best service at the most cost effective price. Sabra pilots all cases, our team has co-pilots; associate attorneys, a senior paralegal and a junior paralegal who bill services at lower rates. We assign the person who can bets perform the task at the lowest rate to each aspect of the case. Only one person bills for any given service. Your case will be discussed at a weekly meeting to ensure that is moving towards resolution in the best way possible so that you can shift you focus to building a new and brighter future.
For many families, divorce and family law matters can a stressful experience. It is helpful to have experienced counsel guide you through the process and alleviate you from the burden of trying to determine how the court system works, what paperwork to file, and what negotiation and litigation approaches to take. It is also important to remember that change often creates new opportunity and a better future. Janko Family Law can help ensure that your best interests and the best interests of your family are protected. Contact us at 719-344-5523 or complete our online form to set up a free thirty-minute initial consultation.