Military and Veteran Divorce and Family Law
Turning Change Into Opportunity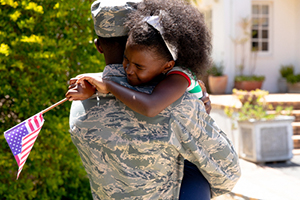 There are often unique issues associated with divorce and family law for the military and veteran community. Some common issues are jurisdiction, military specific rules, regulations, and protections, service of process, and military specific legislation such as retirement benefits division. Having advised both military members and commanders, I know my way around the military community and can offer special insight into these issues. There are also administrative remedies available through commanders and The Inspector General's Office that have no equivalent in the civilian sector. The best course of action for military and family law cases may differ from that of civilian cases.
Choosing a Military or Veteran Issue Lawyer
A few things to consider:
Did the attorney serve in the military?
How long have they been practicing law?
How long have they been handling military and veteran legal issues?
Did they have a legal role in the military, such as a JAG officer?
Jurisdiction
There are often jurisdictional issues with military matters. When a civilian couple decides to separate, the divorce typically is filed in their state of residence. However, if one or more spouses are in the military, state of residence may not be immediately clear. Each state has its own criteria to determine residency. Military members have a home state of record, however that home state may change during service. Servicemembers do not always return to the state where they entered the service. Also, servicemembers may be stationed in a state other than where their families live.
Other Family Law Issues
In addition to military divorce, other family law issues can have unique aspects when one or both parties serve in the military:
Alimony (Spousal support)
Child custody and visitation – often there may be jurisdictional issues
Child support – military pay and taxation are structured differently than civilian pay
Wage garnishment – The Defense Finance and Accounting Service (DFAS) procedures are unique
Paternity
Property division
Military retirement benefits – there have been recent changes to division of retirement pay
Military retirement benefit division is one of the more complicated issues and there have been recent changes. A military pension is an asset and thus is potentially subject to division as marital property. An attorney experienced in this area can help protect the interests of clients and work out agreements that serve their needs.
Servicemember's Civil Relief Act
The federal Servicemember's Civil Relief Act provides a wide variety of legal protections to servicemembers to include deployment protections. For example, when servicemembers are deployed, civil proceedings against them can be "stayed" or postponed. This includes divorce and family law cases. However, there are special procedures to follow to invoke the protections.
Military and Veteran Family Law Legal Needs Are Unique
Due to deployment and the transient nature of military life, often rotating bases or posts every few years, when servicemembers or spouses have family legal matters it is important to speak to an attorney who understands the connection between military life and state-specific domestic relations law. Unlike service-connected criminal matters, your family law matters will be handled in a civilian state court because the military does not have civil courts. You will want to consult with an attorney licensed to practice in the state where the civil court is located.
A military family lawyer understands the laws and protections afforded to servicemembers, as well as the unique barriers and complexities faced during the divorce process. If you are looking for a dependable guide to lead you through the difficult and unfamiliar divorce and family law terrain, contact me at 719-344-5523, or by using the online contact form. I am looking forward to navigating a route with you.