Parenting and The Military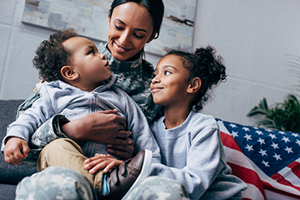 Family matters involving military personnel are often unique because sometimes federal legislation applies in addition to state law. One unique area is parenting time for deploying parents. Two federal laws apply here in addition to state domestic relations law.
Temporary Absence of a Military Parent
Military members move frequently and sometimes deploy to combat zones or are assigned to overseas locations as a condition of their employment for long or short periods of time. Members may also absent from the household for shorter periods of time due to field exercises or to attend training programs. The moves impact parenting time schedules which change when one parent is no longer in close proximity to the child.
Uniform Deployed Parents Custody and Visitation Act
Federal law guides state courts in matters involving military relocation, allocation of parental responsibilities and parenting time. The Uniform Deployed Parents Custody and Visitation Act (UDPCVA) and Colorado state law provide that a parent's past deployment or possible future deployment in itself may not serve as the sole basis for allocating parental responsibility to a non-military parent. This offers a protection to the military parent, who can not be disadvantaged in parenting matters solely by virtue of a deployment related to his or her military service. The Act only applies to a deployment, defined as a mobilization or movement for 90 days to 18 months where family members are not authorized. Therefore, it would not apply to a field exercise or training course less than 90 days or one where family members could collocate with the military member at government expense. This does not apply to permanent change of stations moves that exceed 18 months.
The UDPCVA covers four categories of parental roles that can be allocated to parents during deployment.
Caretaking authority - the physical care of the child
Decision Making Authority - who makes important decisions about the child
Custodial responsibility - a combination of physical care and decision making
Limited Contact – contact with a child by a person who is not a parent
Process
The federal legislation protects both active and reserve military personnel. Reserve military members serve part-time, though can be called up to perform full-time service, sometimes on short notice. The deploying parent is required to notify the other parent of the deployment within 12 days of receiving orders and then provide the other parent with a proposed deployment parenting plan. If the parents can agree to a plan, they can submit a deployment parenting plan to a court for issuance as an order. If the parents can not agree, they can ask a Court to decide and a court is required to conduct an expedited hearing.
Contents of Deployment Parenting Plan
A deployment parenting plan must contain the following elements:
Basic deployment information, such as duration and destination
Allocation of parental responsibility and parenting time schedule
Decision-making authority
Any limited contact for third parties
A dispute resolution process if a nonparent is sharing parenting responsibility
Arrangement for the deployed parent's contact with the children
Contact while the deployed parent is home on leave
Termination date
If you have questions about your parenting and the military,
contact Janko Family Law Solutions
for a free case assessment to determine what your legal options are and ways to turn change into a new opportunity. We can be contacted at 719-344-5523 or
sabra@jankolaw.com
.