Military Housing and Dissolution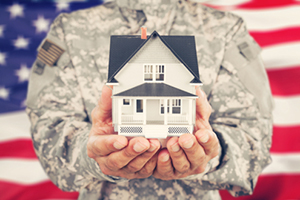 There are many unique aspects of military dissolution, AKA divorce, and family law; military housing benefits included. The military provides either housing on a military installation, or a housing allowance to procure off-installation housing to its members. The military has housing available on installation for single and married members, however there is generally not enough housing for all stationed at the facility.
Sometimes a member will receive both on-installation housing and a housing allowance. For example, in a situation where the member with a family is required to live in housing on the installation that will not accommodate a family, the member receives base housing as well as a housing allowance to obtain off-installation housing for the family. This scenario could occur in the event of a deployment or temporary training assignment.
The housing allowance varies depending on the member's rank, location and family status. The allowance is higher in more expensive cost of living areas. However, housing on an installation can be a substantial benefit as it requires no physical transfer of payment. The member is not required to document to the military that the allowance is being utilized for housing and in that sense the allowance is just a part of the member's salary, though it is specially designated for housing on the pay statement.
Housing Pending Divorce
All parties can remain in military housing until a divorce is final, however if living together is not realistic due to an acrimonious relationship, then either the military member or the family can be required to move out of the family housing pending divorce. The decision as to who will move out is up to the military member's commander.
Housing After Divorce
Usually a former spouse will have 30 days to depart military housing after a divorce. This allows for some transition time to find new housing.
Financial Support to a Separated Spouse in Military Housing
When military members separate pending dissolution, military regulations specify an amount of support that the servicemember must provide to the civilian spouse upon request. If there is a court order, then the court order takes priority over the service regulation. A civilian spouse married to a servicemember is still entitled to receive financial support from the member during separation pending dissolution while living in government housing, however the value of the housing will reduce the required amount of support because the installation housing itself has value by reducing the spouse's monthly living expenses.
Military Housing and Domestic Violence
In cases of domestic violence where the parties live on the installation in family housing, the military will usually move the perpetrator out of installation housing in order to avoid another incident. If the perpetrator is the member, then usually that person will be required to live in on-installation housing for single members.
Janko Family Law - Is It Time for a Change?
Divorce and family law matters are difficult to navigate alone. With offices in Colorado Springs, we can guide you through the experience by handling pleading and motion preparation and filing, negotiation, mediation, and court proceedings from start to finish. This allows you to focus on moving forward to a better future rather than on trying to figure out how the overly complex court system works. Remember that change often creates new opportunity and a better future. Janko Family Law can help ensure that your best interests and the best interests of your family are protected. Contact us at 719-344-5523 or complete our online form to set up a free thirty-minute informational consultation.