Servicemember's Civil Relief Act (SCRA) Housing
In addition to stays of proceedings, covered in another section, the Servicemember's Civil Relief Act (SCRA) offers housing, motor vehicle and tax protections to military members as well. The protections are necessary because of at times short-notice and/or frequent relocations.
Housing, Mortgages and Motor Vehicles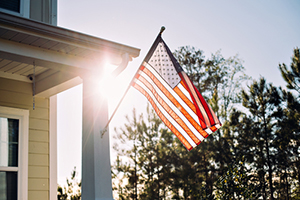 Interest Rates. The SCRA allows servicemembers to obtain an interest rate reduction for pre-service loans down to a six-percent interest rate. Any interest over six percent per year is forgiven. The servicemember must request the reduction in writing and include a copy of military orders. When the lender receives this notice, it must reduce the rate effective as of the date on which the servicemember begins active duty service. The lender can challenge the rate reduction if it can show that the servicemember's military service has not materially affected his or her ability to pay, however in practice this rarely happens.
Eviction. Also, the SCRA prohibits evictions without a court order from premises for which the monthly rent does not exceed a certain dollar value. That value is subject to change each year. The SCRA allows servicemembers to terminate a pre-service "dwelling, professional, business, agricultural, or similar" lease. It also extends coverage to leases for servicemembers who receive orders for a permanent change of station (PCS) or a deployment for a period of 90 days or more.
Foreclosure. Additionally, The SCRA protects servicemembers against a lender's foreclosure if:
The property was owned before entry on active duty;
It is still owned at the time relief is sought; and
The ability to meet the financial obligation is materially affected by the active-duty service obligation.
A court may issue a stay of foreclosure proceedings until the servicemember can answer, allow for reduced monthly payments, or allow foreclosure subject to reopening the proceedings if challenged.
Motor Vehicle Leases. Additionally, pre-service motor vehicle leases may be terminated if the servicemember receives orders to serve on active duty for a period of 180 days or longer, or if the servicemember receives PCS orders to a location outside of the continental United States.
Taxes
The SCRA allows servicemembers to retain their domiciles for tax purposes so that they are not automatically subject to taxation in the state where they are stationed. All servicemembers inform the military of their domicile for purposes of taxation. This election appears on their leave and earning statements. The state of domicile is the state of their entry into service unless a change is made. A servicemember can change the state of election while physically present in a new state if he or she intends to return to that state. It is not unusual for a servicemember not to return to their state of entry into service sometimes 20 to 30 years before they complete their service.
Janko Family Law Solutions - Is It Time for a Change?
Divorce and family law matters are difficult to navigate alone. With offices in Colorado Springs, we can guide you through the experience by handling pleading and motion preparation and filing, negotiation, mediation, and court proceedings from start to finish. This allows you to focus on moving forward to a better future rather than on trying to figure out how the overly complex court system works. Remember that change often creates new opportunity and a better future. Janko Family Law Solutions can help ensure that your best interests and the best interests of your family are protected. Contact us at 719-344-5523 or complete our online form to set up a free thirty-minute informational consultation.