Servicemembers Civil Relief Act (SCRA) - Defaults and Stays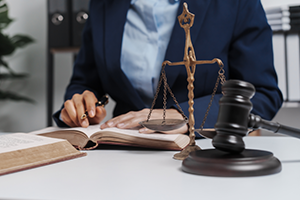 The Servicemembers' Civil Relief Act gives servicemembers protection in civil legal actions. Among other things, the SCRA allows for forbearance and reduced interest on certain financial obligations entered into prior to military service, and it limits default judgments and evictions against servicemembers. The SCRA applies to all active duty military members. The protections generally end 90 days after a servicemember is discharged from active duty.
There are three primary areas of coverage (1) protection against default judgments; (2) stay of proceedings where the servicemember has notice; and (3) stay or vacation of execution of judgments, attachments and garnishments.
Protection Against Default Judgements
If a defendant is in default for failure to appear in an action, the Plaintiff must file an affidavit with the court before a default judgment may be entered stating whether the defendant is in the military.
If the court cannot determine whether the defendant is in the military, the plaintiff may have to file a bond to proceed.
The court can not enter a judgment against a military defendant until after appointment of an attorney to represent the defendant.
If requested by counsel for a servicemember defendant or upon the court's own motion, the court will grant a stay of proceedings for no less than 90 days if it determines that (1) there may be a defense that requires the defendant's presence; or (2) the defendant's attorney has not been able to contact the defendant, or otherwise determine if a meritorious defense exists.
Stay of Proceedings When Servicemember Has Notice
Before final judgement in a civil action, a person protected by the SCRA who has received notice of a proceeding can request a stay. The court may also order a stay on its own initiative. The court will grant the servicemember's stay for at least 90 days if the application includes: (1) a letter or other communication showing that the individual's current military duty requirements materially affect the servicemember's ability to appear and providing a date when appearance can occur; and (2) a letter or other communication from the servicemember's commanding officer stating that the servicemember's current military duty prevents his or her appearance and that military leave is not authorized. The court can to grant additional stays.
Stay or Vacation of Judgement Execution, Attachments and Garnishments
The court may also and must upon application: (1) stay the execution of any judgment or order entered against a servicemember; and (2) vacate or stay any attachment or garnishment of the servicemember's property or assets, if the ability to comply with the judgment or garnishment is materially affected by military service. The stay of execution may be ordered for any part of the servicemember's military service plus 90 days after discharge from the service. However, the court may also order the servicemember to make installment payments.
Turning Change Into Opportunity in Colorado Springs
An attorney can guide you through Colorado Springs divorce and family law matters by negotiating, mediating and litigating. This allows you to focus on moving forward to a better future rather than on spending your time trying to figure out the overly complex court system. Colorado Springs Divorce and family law matters are difficult to navigate alone. The court system is more complex than it should be. Change can be stressful, however it can lead to a better future. Janko Family Law helps ensure that your best interests are protected and that you are aware of your legal rights and obligations.
Contact us at 719-344-5523 or complete our online form to set up a free thirty-minute informational consultation.