Securing Child Support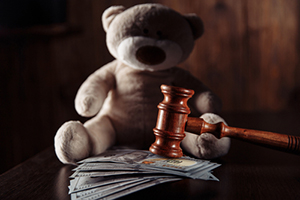 It is important to ensure, if possible, that there will not be an interruption in child support due to the death of the payor. In Colorado, child support obligations terminate when a child emancipates but not when a parent dies. However, many people do not have an estate substantial enough for continued child support payments. There are methods that can be used to secure child support. If the estate is large enough, child support can be paid out in a lump sum payment. This would require asserting a claim on the estate by the surviving parent or caretaker.
In addition to enforcement methods prescribed by statute or the Colorado Rules of Civil Procedure, courts may require security to ensure enforcement of their orders. An interested party may apply to the court for an order requiring an obligor to post security, a bond, or other form of guaranty to secure payment of child support. Life insurance, assets, and trusts may be used to guarantee child support obligations.
Security Options
Life insurance is a common way to secure child support. Life insurance can be purchased for a term to cover the support obligation. The policy can be customized to the amount of the obligation. Life insurance policy proceeds are generally tax-free. Whether the parent has a preexisting policy is relevant if purchase would caused extraordinary financial expense, for example with those with relatively low incomes or health issues.
Less common is the use of assets to secure support. Accounts wherein a beneficiary can be designated can be utilized. For example, retirement accounts such as an IRA or 401(k) are appropriate. Obligors can name the obligee as a beneficiary in an amount customized to the child support obligation. Some federal plans however, require a subsequent spouse to consent which could foil this approach. Children can not be named as direct recipients, therefore the parent or another adult fiduciary has to be named as the recipient. If a child is named as direct beneficiary, the likely outcome is that a probate court will have to appoint a conservator to manage the child's money and property until the child turns 21, and that conservator may well be the surviving parent.
A trust is another option to maintain child support security. The trust can be funded upon the parent's death and distributed by the person designated in the trust. The surviving parent can be the trustee or it can be managed by another adult or a professional trustee.
Obligation Calculation
Child support amounts are not static and can be modified. Child support may be modified "upon a showing of changed circumstances that are substantial and continuing" if the modification results in at least a 10% change. Thus insurance, asset or trust coverage may require modification at various points, either up or down. To calculate, multiply the existing obligation by the number of months until the first child turns age 19. Then calculate each additional child's support obligation until the child(ren) turns 19, and add the numbers. There is always the risk that the security will not be maintained. The obligor can be required to annually provide proof of insurance/asset existence.
Turning Change Into Opportunity in Colorado Springs Divorce and Family Law
How can an attorney help in child support matters? A Colorado Springs divorce and family law attorney can guide you through the Colorado court process to include assessing child support and continued coverage for you. This allows you to focus on moving forward to a better future rather than on spending your time trying to tackle the overly complex court system. Contact us at 719-344-5523 or complete our online form to set up a free thirty-minute informational consultation.