Premarital and Marital Agreements
Planning for an upcoming marriage is an exciting time, though there are also practical aspects to consider. For some couples, negotiating a premarital agreement is part of the planning process. While negotiating a premarital agreement is not as exciting as planning the wedding itself, it may create an important foundation for the union's future progression.
Agreements between spouses can also be created after marriage and if signed by both parties and based on adequate financial disclosure will be binding on both parties. A premarital agreement is effective upon the signing of both parties and marriage, and a marital agreement is effective upon signing by both parties. Such agreements are presumed to be valid and the burden of proof is on a party asserting invalidity. Courts have invalidated premarital and marital agreements when not based on adequate financial disclosure or when unconscionable.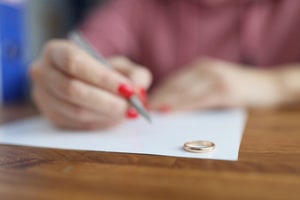 Enforceability Challenges
A spouse can challenge agreement validity upon four grounds:
Involuntariness/Duress

Entry into premarital and marital agreements must be voluntary. If a spouse can show that he was coerced to sign an agreement, that may invalidate the agreement. Coercion could occur due to the timing of an agreement. If an agreement is presented on the eve of the wedding, there may not be sufficient time to adequately evaluate and consider the agreement, and there is a concern about the impact of delaying or calling off a wedding due to agreement disputes.

Access To Independent Legal Representation

The opportunity to consult with independent legal counsel is a requirement. One attorney can not represent both parties to an agreement because of the potential conflict of interest. Lack of opportunity to consult can arise when an agreement is presented shortly before marriage, or if one party can not afford the assistance of counsel. It is a good practice for the party proposing an agreement to pay for a consult with counsel for the other party if both parties can not independently afford representation.

Waiver

A premarital or marital agreement should have waiver language to inform a party that they may be giving up support or property to which they would be otherwise entitled.

Waiver language could be:

If you sign this agreement, you may be:

Giving up your right to spousal support.
Giving up your right to money or property.
Giving up your right to legal fee payment.
Agreeing to pay the bills and debts of the person you are marrying or to whom you are married.

Financial Disclosure

Financial disclosure of both parties is a requirement of entry into a premarital or marital agreement. If accurate and complete disclosure is not made, an agreement can be invalidated. Both parties must have sufficient knowledge of the assets of the other to enter into a fair and considered agreement.
Agreements Containing Spousal Maintenance Provisions
Many marital agreements for spousal maintenance drafted prior to the tax change embodied in the Tax Cuts and Jobs Act of 2017 contemplated the deductibility of maintenance payments. Deductibility was modified in the Act. Previously, the spousal maintenance (alimony) payor deducted maintenance payments from his income. After the Act, the payor no longer deducts maintenance and pays tax on it. Though couples often draft marital agreements to avoid court proceedings, courts have the ability to modify spousal maintenance portions of agreements that assumed the deductibility of the maintenance payments given the change in the law if the parties can not agree to an appropriate adjustment.
Unenforceable Terms
Some terms are unenforceable because they are not consistent with law or public policy. Unenforceable terms include terms that:
Adversely affect a child's right to support
Limit a remedy available to a victim of domestic violence
Modify the grounds for separation or dissolution
Restrict a party from initiating a legal proceeding for separation or dissolution
Anything else that violates law or public policy
Are you looking for a Family Law Attorney who understands the importance of fair agreements that benefit both parties and lead to stronger relationships? At Janko Family Law, we understand how to assist in obtaining fair results for all in family law matters. Give us a call for a complimentary case assessment.