Disclosures and Discovery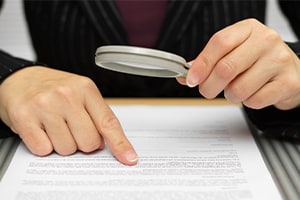 Financial disclosure is required in domestic relations cases and many parties do not appreciate, at first, the extensive nature of the requirement. It is best to plan sufficient time to gather financial records and information before filing. The public policy rationale behind disclosure is that fair financial agreements can only be reached with comprehensive and accurate knowledge of assets and liabilities. Both parties are required to provide certain information under Colorado Rule of Civil procedure 16.2 without request of the other party.
Due Date
Financial disclosures are due within 42 days after service of a petition or post-decree motion concerning financial issues. These should be exchanged prior to the initial status conference to the extent reasonably possible. Parties sign their disclosures under penalty of perjury so the responsibility for accurate disclosure is placed on the parties. The parties must also supplement and amend the disclosures upon change. The sworn financial statement is filed with the court, though the others disclosures are not.
Mandatory Disclosure Documents
The following documents are required to be exchanged by the parties:
Sworn financial statement and relevant supplemental schedules
Income tax returns
Personal financial statements
Business financial statements
Investments
Employment benefits
Retirement plans
Bank/financial institution accounts
Income documentation
Employment and education childcare documentation
Insurance documentation
Extraordinary children's expense documentation
Consequences of Inaccuracy and Omission
If there are material inaccuracies or omissions, a court can reopen a property settlement for reallocation within five years from the entry of the decree. There is a high bar to reopen a property settlement and the inaccuracy or omission must be material.
Discovery
Discovery is a way to obtain additional information exceeding that required by mandatory disclosure. The three most common discovery methods are depositions, interrogatories and requests for production of documents. Interrogatories are written questions answered under oath and a request for production of documents specifies particular documents that the receiving party must provide absent a sustained objection. A deposition is a recorded interview under oath with a party, an expert witness, or a third person with relevant information. It is limited to one day totaling six hours absent agreement to the contrary by the parties. The deposition must be transcribed in order to be utilized at a hearing or trial. Documents may be requested in a deposition notice. Documents can also be requested by subpoena. A party receiving a subpoena to produce can object and under appropriate circumstances a Court may quash the subpoena.
Depositions serve many purposes such as:
Learning about the other side's case
Obtaining more information than mandatory disclosure allows
To lock the deponent into a position
To impeach (to question credibility and truthfulness)
To obtain admissions
To obtain the testimony of a witness who may not be present for trial
To evaluate credibility
Is it time to turn change into opportunity? At Janko Family Law Solutions we know how to work with you to reach your transition goals. We are committed to pursuing settlement to preserve family relations to the maximum extent possible, however also zealously represent your interests in contested litigation if desired or necessary. Give us a call for a complimentary case assessment at 719-344-5523, or fill out our confidential online intake form.