Mediation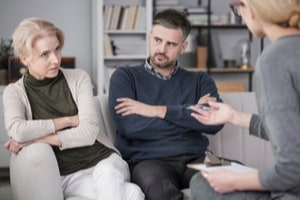 Turning Change Into Opportunity
Decide Your Own Future Through Mediation
Why take divorce and parenting matters to a court when you can enter into agreements yourselves? All families are different and you know better than anyone else what will work for you and your family.
Lower Cost
Entering into your own agreements is often the most cost-effective method in divorce and family law matters. Contested litigation, on the other hand, can easily run up thousands of dollars in expenses. Even worse, contested litigation also tends to run up negative feelings which impact your future ability to resolve issues.
My Philosophy
It is best to decide divorce, separation and parenting matters for yourselves than to have a court decide for you. Though you may have difficulty communicating with the other party, you know best what will work for you and your family. It is not unusual for those involved in divorce or family law matters to have difficulty communicating civilly with each other. However, civil communication is a prerequisite to reaching consensus. A mediator can assist you in reaching the best resolution by facilitating communication.
Parents Continue to Make Decisions Together Even After Divorce or Separation
Whereas parties without children can go their separate ways after divorce, parties with children continue to be connected to each other by virtue of the children. There are regular decisions that have to be made for children involving:
Education,
Religion,
Recreation,
Behavior,
Health,
and more
Not only can mediation assist in reaching initial agreement, it can also lay the foundation for constructive communication for years to come. Particularly in matters involving children, it is important for parents to interact constructively with each other as they may have to do so for many years to come.
Separation Agreements and Parenting Plans
In uncontested divorce and separation cases it is necessary to file a joint Separation Agreement with the court, which then becomes the basis for the divorce decree. Also, in any case involving the allocation of parental responsibilities, the parties have to file a Parenting Plan. A Separation Agreement covers such things as spousal maintenance (AKA alimony) and the division of assets and debts. A Parenting Plan establishes primary residential custody and parenting time (AKA physical custody, legal custody and visitation.) You know more about what will work best for your family than anyone else.
Mediators are Neutral Facilitators
With mediation services, I work with both parties together and do not represent either party individually. Instead I assist both parties in attempting to reach agreement on divorce, separation and parenting issues. As an attorney, I understand Colorado family law so have the expertise to assist in developing agreements that are consistent with the law and will work when filed in the court system.
The goal with mediation is to reach full agreement resulting in the preparation of a Separation Agreement and/or Parenting Plan that will be the basis for an uncontested divorce, separation or allocation of parental responsibilities proceeding. If full agreement is not reached, then partial agreement is also a success as it eliminates at least some issues from a contested proceeding.
How Mediation Works
Mediation can be scheduled at your convenience, however often works well with weekly one-hour sessions. You can customize the mediation experience. If you prefer longer and/or more frequent sessions in an attempt to reach faster resolution, that is an option as well. Sessions can be scheduled during lunch, or on evenings or weekends if that works best for you.
Sessions are broken down into topics where decisions are necessary and parties can take as much or as little time on each subject as it takes to reach full or partial resolution. Examples of topics are:
New separate household income and expenses
Child and spousal support
Asset and debt division
Custodial responsibility (AKA custody)
Parenting Time (AKA visitation)
Relocation
Any issues that you would like to discuss
Military and Veteran Divorce and Family Law Mediation
There are often unique issues associated with divorce and family law for military and veteran couples looking to reach a mediated agreement. Some common issues are jurisdiction, military specific rules, regulations, and protections, service of process, and military specific legislation, such as retirement benefits division. Having advised both military members and commanders, I know my way around the military community and can offer special insight into these issues. Decide for yourselves what will happen with your divorce, separation and parenting matters. Don't let someone else make those important decisions for you.
If you would like assistance with reaching constructive resolution on divorce, separation and parenting plan matters, schedule your consult to discuss the mediation process. Contact me at 719-344-5523 or at the online link.