Post-Decree Family Law Motions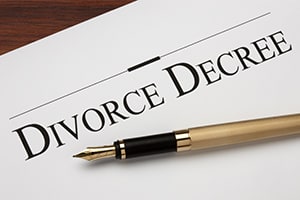 Domestic relations permanent orders are sometimes just the start of court proceedings. As situations change, needs evolve and new orders may be required to address the changes. At times parties can resolve changes and enter into a stipulated agreement, and sometimes litigation is necessary. Common types of post-judgment motions are:
Property Division Modification
If conditions exist to reopen a property settlement, a court may do so up to five years from the date that the initial decree was entered. Such situations are not common and revolve around fraud or a failure to disclose financial information in the initial proceedings. Complete financial disclosure is necessary to avoid the potential for reopening property settlements. There is a high bar to reopen a property settlement.
Decision-Making Responsibility Modification
Decision making responsibility determines which parent makes important decisions for children, such as for health, education and welfare. The standard for modification is that there has been a change with the child or the majority time parent and a change will be in the best interests of the child. The bar is high for a change in decision-making authority in order to ensure stability for children.
Parenting Time Modification
Parenting time provisions sets forth when and where a parent will have the care of children. As with other matters involving children, the legal standard is the best interests of the children. A Motion To Restrict parenting time has a very high bar to ensure stability for children. The legal standard is child endangerment. However, parties can agree to a modification. Child support will be retroactively changed back to the initiation of an agreed-upon modification. Additionally, a parent can request that an order be modified to reflect the parenting time that is occurring if different from what is set forth in the order.
Child Relocation
In our mobile society, it is not unusual for one parent or the other to relocate after dissolution. There are two different legal standards, one for relocation at the time of dissolution and a more stringent one for post-decree relocation. These cases are very fact specific and the Court will examine the following:
Current allocation of parental responsibilities and parenting time
Reasons for the move and opposition
History of each parent's time with the children
Desires and needs of the children
A new proposed parenting time schedule
Impact of the move on the child
Child Support Modification
Child support can be modified upon a substantial and continuing change in circumstances. Substantial is considered to be a plus or minus 10% change in child support. Colorado requires that parents exchange financial information on an annual basis if there has been a change.
Settlement or Litigation
As with all other matters, the parties can agree to a resolution or can ask a court to decide. There are various methods to reach resolution, such as negotiation and mediation. Many parties include a mediation requirement in their decrees to minimize the potential for future court disputes.
Is it time to turn change into opportunity? At Janko Family Law we know how to work with you to reach your transition goals during emotionally-difficult dissolution and family law proceedings. We are committed to pursuing settlement to preserve family relations to the maximum extent possible, however also zealously represent your interests in contested litigation if desired or necessary. Give us a call for a complimentary case assessment at 719-344-5523, or fill out our confidential online intake form.