Intersection of Criminal and Family Law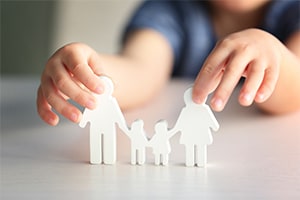 Criminal and family law often intersect. They may occur simultaneously and consequently the overlap may cause confusion. For example, if there is a simultaneous dependency and neglect case, the juvenile court will have exclusive jurisdiction over the child, so that a domestic relations court could would not be able to enter an order pertaining to the child. It is important to be aware of how simultaneous cases can impact each other and plan accordingly.
Criminal Protection Orders
Every person charged with a criminal violation is subject to a mandatory protection order in favor of any crime victim. It is important to be aware of the protection order restrictions and understand how they may impact family law cases. For example, restrictions may prevent direct contact between parents for purposes of exchanging children for parenting time, and a third party may need to assist the parents with parenting time exchanges. Any protection order issued in one court should be filed into the court file for companion cases so all courts can be aware of victim protections. A criminal protection order is effective until final disposition of a criminal case. It is possible, however, to request a modification to a criminal protection order with regards to facilitating parenting time.
Constitutional Protections
There are significant constitutional protections involved in criminal proceedings that may impact simultaneous family law proceedings. Most notably the Fifth Amendment right to remain silent and the Sixth Amendment right to counsel.
Fourth Amendment
The Fourth Amendment prohibits unreasonable search and seizure. A related legal issue in the family law context is electronic privacy laws. It is not unusual for one spouse to obtain evidence by accessing another spouse's e-mails or other electronic information without consent. When the other spouse did not provide consent to access the electronic information, then the electronic privacy laws could be violated. This can impact the admissibility of evidence.
Fifth Amendment
Anyone who could be subject to prosecution by providing information can invoke the Fifth Amendment right to remain silent to avoid self-incrimination. The right extends to the ability to avoid even taking the witness stand to invoke the privilege. The Fifth Amendment applies to criminal matters. Some civil cases are actually quasi-criminal matters however, and the Fifth Amendment applies to those as well. The difference is that in a civil case, a Court may draw a negative inference from invocation, whereas in a criminal case, no negative inference may be drawn. If a person testifies in a civil case, that testimony may be used against him in a criminal case. Therefore, careful evidentiary planning and coordination is necessary in simultaneous or subsequent cases. Examples of civil matters that have a criminal component so are quasi-criminal in nature are:
Punitive contempt
Domestic violence
Child abuse
Restrictions of parenting time
Sixth Amendment
The Sixth Amendment affords a litigant the right to counsel of his or her choice. Indigent defendants in criminal and quasi-criminal cases must be provided with counsel without cost. These counsel are provided from the Public Defender's Office. A defendant may have a counsel of their own choosing, however must pay that expense.
Is it time to turn change into opportunity? At Janko Family Law Solutions we know how to work with you to reach your transition goals. We are committed to pursuing settlement to preserve family relations to the maximum extent possible, however also zealously represent your interests in contested litigation if desired or necessary. We can also handle appeals if the event that the trial court errors in fact or law. Give us a call for a complimentary case assessment at 719-344-5523, or fill out our confidential online intake form.