The Intersection of Dissolution and Bankruptcy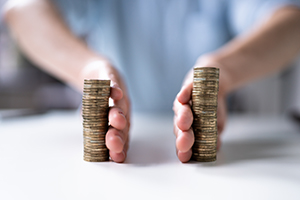 Dissolution and bankruptcy sometimes go hand in hand. Dissolution often creates a requirement to create and maintain separate households, which can cause financial difficulties. If either spouse files for bankruptcy while a dissolution action is pending, then equitable distribution - property and debt division - will be placed on hold. Bankruptcy can discharge certain debts, however there are some that are not dischargeable, such as:
Student loans
Restitution
Domestic support obligations
Certain tax liabilities
Common domestic support obligations are child support and spousal maintenance, however other payments can also be in the nature of support, such as a requirement to pay a mortgage payment for a former spouse. Other dissolution-related allocations of assets, such as property division, are not support obligations. A determination about whether a financial or property transfer is a support obligation, therefore not dischargeable, is a common inquiry in dissolution and bankruptcy situations.
Common Types of Dissolution-Related Bankruptcy
Chapter 7
A Chapter 7 is a liquidation bankruptcy where nonexempt property is sold to pay creditors. Colorado law specifies property which a debtor may keep while receiving a discharge of debts. The property that can be kept is "exempt" from liquidation. Chapter 7 bankruptcy is generally a relatively quick process, resulting in discharge in a few months. General steps taken in Chapter 7 bankruptcy are:
Take an online credit course
File a bankruptcy petition and schedules
Provide the most recent tax return
Attend a meeting of creditors
Complete a financial management counseling course
Chapter 13
Chapter 13 is generally utilized by those with too much nonexempt property, or whose incomes are too high to qualify for a Chapter 7. In a Chapter 13, all property is retained and the debtors repay debts over a three to five-year period. Any debts that are not paid off are discharged. If the debtor's income is below median for the state where he lives, he pays for three years; if above, he pays for five.
Chapter 11
This chapter is usually for business reorganization. Individuals can file a Chapter 11, however Chapter 11 is more complex and expensive so individuals usually only utilize it if they do not qualify for a Chapter 13.
The Automatic Stay
Upon filing for bankruptcy, creditors are barred from collection action. There are a few actions and debts not subject to the stay:
Criminal proceedings, including civil punitive contempt
Paternity actions
Domestic support obligations
Parental responsibilities actions
Domestic violence
Dissolution
Domestic relations obligations that are not support obligations are dischargeable in a Chapter 13 Plan, though not in a Chapter 7.
Co-Debtors
One spouse in a marriage may apply separately for bankruptcy. A discharge for a single spousal applicant does not discharge the joint legal debt payment obligation of a joint spousal debtor, however. Creditors are not bound by dissolution decrees or a bankruptcy discharge of one spouse named on a joint debt and may collect against the other spouse. All property titled in the applying debtor's name in full or part is dischargeable based on that spouse's full or partial interest in the property.
Is it time to turn change into opportunity? At Janko Family Law we know how to work with you to reach your transition goals. We are committed to pursuing settlement to preserve family relations to the maximum extent possible, however also zealously represent your interests in contested litigation if desired or necessary. We can also handle appeals if the event that the trial court errors in fact or law. Give us a call for a complimentary case assessment at 719-344-5523, or fill out our confidential online intake form.