Settlement in Domestic Relations Cases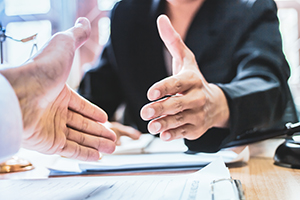 There are many advantages of settlement in domestic relations cases. Because of the strained relationships between parties, settlement can be, at times, elusive. This is where a settlement attorney or mediator can provide valuable assistance. The first step is information gathering through disclosures and discovery, if necessary. It is important to know all relevant facts in order to achieve a knowledgeable settlement between the parties. Courts usually require mediation prior to litigation as well. Attorneys may assist the parties in mediation, or the parties may attend alone.
Stipulations
If the parties reach settlement, then the agreement should be set forth in a stipulation and can be provided to the Court to issue as an enforceable court order. Stipulations set forth relevant background facts and are subject to standard contract law until embodied in an order by a court. When parties are represented by attorneys, the attorney approves the form of the agreement and the party signs affirming that the content is accurate. It is important to clarify in post-decree agreements what provisions are changed and what provisions, if any, from a prior agreement or remain in effect.
Issuance as Court Order
Before a court issues a stipulation as an order, it reviews it for unconscionability, which is essentially fundamental fairness. There are two prongs of this review. The first is that the Court reviews for factors that would potentially invalidate any contract such as fraud, overreaching, concealment, or sharp dealing. The second prong involves evaluating the economic circumstances of the parties and whether the agreement is fundamentally fair in light of those circumstances. Courts grant general deference to agreements between the parties to encourage agreements, and may not merely substitute their own opinion for those of the parties. A court always reviews provisions pertaining to children under the best interests of the children standard.
Enforcement
An agreement that has been incorporated and not merged into a decree remains enforceable as a contract and a court order. If it is incorporated and merged, then it is just enforceable as a court order.
Affidavit For Decree Without Appearance of the Parties
There are situations where the parties may not have to appear for a permanent orders hearing and a decree can issue with appearance:
If the parties do not have children and have entered into a separation agreement
If the parties have children, but are both represented by counsel and have entered into a separation agreement and parenting plan.
Joint Trial Management Certificate
If a matter will go to trial, a joint trial management certificate must be filed seven days in advance as well as all evidence. The certificate includes the following information:
Stipulations and undisputed facts
Requests for attorney's fees
Disputed issues
Legal authority
Witness identification
Updated sworn financial statements
Updated support worksheets
Is it time to turn change into opportunity? At Janko Family Law Solutions we know how to work with you to reach your transition goals. We are committed to pursuing settlement to preserve family relations to the maximum extent possible, however also zealously represent your interests in contested litigation if desired or necessary. Give us a call for a complimentary case assessment at 719-344-5523, or fill out our confidential online intake form.