Securing Child Support In The Event of Death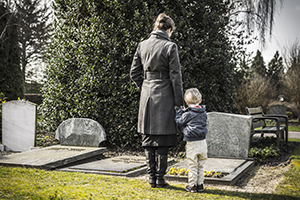 When planning for child support, some parents may not look down the road to plan for financial security in the event of the death of the other parent. In Colorado, child support terminates when the child emancipates, but does not terminate upon the death of a parent. Although only one parent pays support to the other, both parents are responsible for supporting the child and both incomes are considered in the child support calculation.
If there are insufficient funds in an estate to pay out the remaining support obligation, then some form of security is essential to receiving post-death support for the children. If the support is not secured, the other parent must determine how much support is still owed and how to collect that support from the estate, which usually involves a claim against the estate. The claim can complicate and delay probate. Also, there may not be sufficient estate funds available. If a form of security has been established, then the complexities of estate collection can be eliminated.
Security
Parents can agree on security or a court can require it. C.R.S. §14-10-118(2), C.R.S. §14-14-109. The most common form of security is life insurance. A child support order can require parents to maintain a certain amount of life insurance to secure the child support in the event of death. An appropriate amount of insurance can be estimated by evaluating the age of the children and the amount of support and calculating a total based on the age of emancipation at age 19 or perhaps later if the parties have agreed on supporting the children through college.
Proceeds from a life insurance policy are usually tax-free. Parents may already have life insurance policies that they can utilize as well. This security amount may be changed in accordance with future support modifications given that support can always be modified based on a substantial and continuing change in circumstances that would result in a plus or minus 10% change in the child support obligation. It is not unusual for a support order to change over time with fluctuations in incomes and sometimes the number of overnights of children with each parent. The security amount can change along with any support modifications.
Another form of security involves establishing beneficiary designations on assets owned by the payor spouse. This may be preferable in situations where due to age or health, life insurance may be prohibitively expensive. For example, the payor spouse may be able to establish beneficiary designations for the children on assets such as an Individual Retirement Account or 401(k) account. A parent may be ordered to provide confirmation of the security on a regular basis. If the parties are already required to exchange annual financial information at a specific time, this is a good time to also provide security confirmation.
Janko Family Law Solutions - Is it Time for a Change?
Divorce and family law matters are difficult to navigate alone. With offices in Colorado Springs, we can guide you through the experience by handling pleading and motion preparation and filing, negotiation, mediation, and court proceedings from start to finish. This allows you to focus on moving forward to a better future rather than on trying to figure out how the overly complex court system works. Remember that change often creates new opportunity and a better future. Janko Family Law Solutions can help ensure that your best interests and the best interests of your family are protected. Contact us at 719-344-5523 or complete our online form to set up a free thirty-minute informational consultation.