Colorado Family Law Magistrate Judge Order Review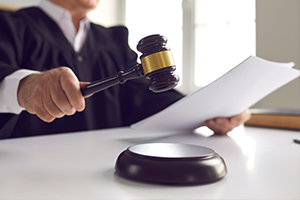 A Colorado state court Magistrate Judge is an administratively appointed Judge who has a similar but more limited role than Article VI elected or appointed Judges. A Magistrate Judge works under the supervision of an Article VI Judge. Magistrate Judges handle a variety of matters, however can not conduct jury trials. Commonly they preside over discovery issues, scheduling conferences, and pre-trial matters.
Family Law Magistrate Judges
In the family law area, Magistrate Judges hear certain kinds of family law matters. They handle civil protection orders, temporary divorce and family orders, contempt, and modifications of permanent orders involving child support, spousal maintenance, parenting time, legal child custody or decision-making. With the consent of the parties, a Magistrate Judge may preside over contested hearings which result in permanent orders concerning property division, maintenance, child support, or allocation of parental responsibilities.
Consent
Consent can occur affirmatively or by a failure to object. The parties may consent in writing or in court on the official record. Also, if a party has been provided with a notice of Magistrate Judge referral, and fails to object within 14 days, consent will be implied.
To Consent Or Not To Consent?
Both District Court and Magistrate Judges are qualified for their positions. Whether to consent to Magistrate Judge Jurisdiction is essentially a matter of personal preference. If you consent, then you know who will hear your case. If you do not, then you may be appointed any of the available district court judges. Cases before Magistrate Judges may move more quickly but there is no guarantee. Consent also removes the intermediate layer of appellate review, which may or may not be desirable depending on your individual circumstances.
Magistrate Judge Order Reviews
In order to appeal a Magistrate Judge's decision, it is first necessary to file a Petition for Review with a Colorado District Court Judge. The petition must be filed within 14 days after a final order is entered if the parties were present at the time the order was entered, or within 21 days if they were not. The next level of appellate review is to the Colorado Court of Appeals. An exception to the intermediate level of review is when is when the Magistrate hears and decides contested permanent or final orders by consent of the parties.
The District Court Judge generally defers to the magistrate's decision on factual determinations, and makes a separate legal determination. The Magistrate Judge was the one who heard the evidence and was in a position to assess credibility of the parties based on their testimony. If you appeal a Magistrate Judge's factual determination, provide a copy of the hearing transcript. You can order a transcripts though the Court Clerk's Office for a fee.
Are you looking for a Family Law Attorney who understands the importance of constructive and non-adversarial problem solving? At Janko Family Law Solutions, we understand how to assist families in family law matters. Give us a call for a complimentary case assessment.