International Child Abduction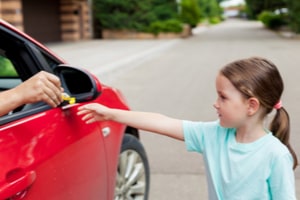 There are situations where a parent takes a child at a time not permitted by a custody order and transports that child to another country. International child abduction involves the removal or retention of a child outside of his or her country of residence in violation of another parent or guardian's custody rights. Various federal laws govern international child abduction: The Hague Abduction Convention on the Civil Aspects of International Child Abduction, the Parental Kidnapping Prevention Act (PKPA) and the Uniform Child Custody Jurisdiction And Enforcement Act (UCCJEA). The Hague Convention requires a court to order a child's return where a child:
is under age sixteen, and
has been wrongfully removed from his or her habitual residence
in violation of custody rights.
In the absence of a court order that sets forth an allocation of parental responsibilities, AKA child custody, both parents have equal rights and the police will usually not become involved if one parent takes the child. An abduction occurs when a parent removes a child without the consent of the other parent in violation of a court order. Law enforcement will become involved in the enforcement of court orders on request by a parent or order of a court.
If the parent has the child for an extended period of time not permitted in a court order without the consent of the other parent, then they have abducted the child. This is particularly true if the parent does not intend to return the child. There are legal options in both federal and state court. The state of Colorado also has child abduction law. Colorado's Child Prevention Abduction Act defines child abduction as the wrongful removal or wrongful retention of any minor child that violates the rights of custody or court-ordered rights of anyone to the allocation of parental responsibility, custody or parenting time.
Defenses
There are some defenses to an abduction allegation. One is that the Petitioner has waited for more than one year to request the return of the child and the child has become settled in the new environment. Another is that the Petitioner does not have custody rights to the child. A third is that the child will be placed in serious physical or emotional danger if returned.
First Steps
If you believe that there is an imminent threat of abduction, there are steps that you can take to aid in preventing an abduction altogether. You can file a petition with the Court to request child abduction prevention measures. The Court can hold an emergency hearing to assess whether a credible threat exists and whether abduction prevention measures should be implemented. You will have to explain why you believe that the other parent intends to abduct the child.
Legal Factors
The Court must examine several factors. Such factors may include any history of domestic violence as well as well as prior adherence to or violation of court orders involving children. Other evidence may include potential abduction recent actions, such as terminating employment, closing bank accounts, or obtaining a passport. Courts also consider the age of the child and the difficulties in returning the child if abducted. A court will also evaluate whether an alleged alleged abductor has ties to another country, particularly one that is not a participant in the Hague Convention governing child abduction. If a country is not a participant, then that county likely will not cooperate in the return of the child.
Court Orders
The Court can enter orders imposing travel restrictions, and modify parenting time and decision-making responsibility. Such measures may include a warrant issued by the Court to take custody of the child from the alleged abductor.
Janko Family Law Solutions - Is It Time for a Change?
Divorce and family law matters are difficult to navigate alone. The court system is more complex than it should be. With offices in Colorado Springs, we can guide you through the experience by handling pleading and motion preparation and filing, negotiation, mediation, and court proceedings from start to finish. This allows you to focus on moving forward to a better future rather than on trying to figure out how the overly complex court system works. Remember that change often creates new opportunity and a better future. Janko Family Law Solutions can help ensure that your best interests and the best interests of your family are protected. Contact us at 719-344-5523 or complete our online form to set up a free thirty-minute informational consultation.