Standard Contract Provisions in Separation Agreements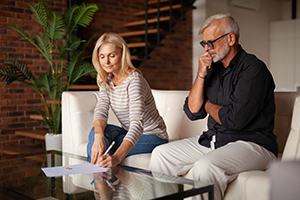 In dissolution and legal separation actions, parties enter into separation agreements to divide assets and debts. These agreements are customized to the parties' unique situations, however also often contain standard contractual provisions. In essence, the agreement is a contract between the parties and the standard provisions aid in interpretation and enforceability. There are a variety of common provisions.
Satisfaction and Waiver
This provision states that the agreement fully satisfies any future claims or demands associated with the dissolution or separation. This limits renegotiation of the same issues and helps to allow finality in the agreement. It is not uncommon for differences in interpretation to arise at a later time. If the term in question is considered to be ambiguous, then a court will hear extrinsic evidence of the formation intent. Extrinsic evidence is evidence outside of the four corners of the agreement. If the agreement terms are considered to be unambiguous, then extrinsic evidence will not be considered.
Incorporation Into Decree
If an agreement is "incorporated but not merged" into a dissolution decree, then it is enforceable as a contract as well as by court order. If the agreement is incorporated and merged, then the agreement loses its contract characteristic and is just enforceable as a court order.
Execution of Documents, Titles and Deeds
This is a general provision requiring prompt handling of any document transfers to effectuate new possessory interests in real or personal property and to allow the Clerk of the Court to execute such document transfers if the party who should transfer fails to do so.
Governing Law
Because state laws differ and parties may relocate after a decree is issued, this provision sets forth what laws will govern the agreement. However, sometimes the parties' choice of jurisdiction is overridden by federal law. This is frequently the case with child custody and support matters which are governed by federal as well as state law. Federal law will take priority, if it applies, in the event of a conflict of laws.
Entire Agreement
This provision is intended to specify that the agreement replaces and supersedes any prior agreement. This avoids confusion surrounding potentially conflicting provisions contained in differing documents.
Waiver of Breach or Default
This offers additional protections in the event of breach or default and sets forth a notice provision for legal action giving the breaching party an opportunity to cure prior to court action. The purpose of this provision is to allow cure prior to initiating court action in the hopes of negating the need for a court to decide the issue for the parties.
Modification
Certain provisions can be made nonmodifiable by the parties, such as spousal maintenance. The parties can not decide modifiability of all provisions, however. Certain matters, such as child custody or support, by law always remain within the jurisdiction of the Court.
Indemnity
This allows for recovery for expenses incurred by one spouse in obtaining performance of the other under the agreement or decree if the other does not voluntarily perform.
Property Transfer
This provision sets forth that property is transferred incident to dissolution, which provides favorable tax treatment.
Agreement Effect
This clause specifies whether an agreement takes effect upon signing or upon approval by a court and incorporation into a decree.
Severability
This provides that if one part of the agreement or decree is found to be unenforceable, the remaining provisions remain enforceable, unless specifically determined to be otherwise.
Turn change into opportunity in dissolution and family law matters. Changing the status quo is always difficult, however it can lead to a new and better future. At Janko Family Law we know how to obtain a solution that will turn change into opportunity. We are committed to pursuing settlement to preserve family relations and for cost-effective resolution to the maximum extent possible, however also zealously represent your interests in contested litigation if desired or necessary. Give us a call for a complimentary case assessment at 719-344-5523, or fill out our confidential online intake form.