Child's Legal Representative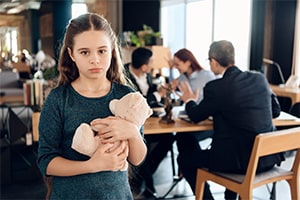 Why would a child require his or her own attorney in a family court proceeding? One reason is that despite the presence of children in family court proceedings, their voices are often not heard. Many courts may be reluctant to hear child testimony and a child must be mature enough to express a reasoned opinion to be heard by a court. Children may require independent legal representation to ensure that their thoughts are considered and their best interests are represented. For example, a child could be appointed a legal representative where the parents, because of their own involvement in a custody proceeding, may be biased in their requests to the Court.
A Child's Legal Representative (CLR) is an attorney appointed to represent the best interests of the child. The CLR does not represent the child's wishes, but rather the child's best interests. For example, if a child says that he wants to live with his father because his father lets him eat ice cream for dinner and does not make him do his homework, then the CLR will represent the best interests of the child rather than his desires. The CLR does listen to the child's desires and take them into consideration.
The CLR Role
A CLR offers recommendations about parenting time and decision-making. The CLR may be appointed only for a specific purpose, such as considering the waiver of a child's therapist patient privilege, or may be involved in an entire case. Unlike a Child and Family Investigator, a CLR is not a neutral expert who writes a report that is then submitted to the Court. The CLR does not write a report or testify in court but rather is a representative of the child. A CLR's positions often have substantial weight on parenting issues because the CLR is acting in the best interests of the child, rather than being an advocate for any party's position
When is a CLR Necessary?
In high-conflict parenting matters or those that involve serious issues such as parental unfitness, relocation, parental alienation, or domestic violence, the court may appoint a representative for the child. A court can appoint an expert on its own initiative if the Court believes that representation for the child is necessary. Either parent can also move for appointment.
Turning Change Into Opportunity in Colorado Springs
An attorney can guide you through Colorado Springs matters involving child representation by negotiating, mediating and litigating. This allows you to focus on moving forward to a better future rather than on spending your time trying to figure out how the overly complex court system.
Colorado Springs Divorce and family law matters are difficult to navigate alone. The court system is more complex than it should be. Remember that change often creates new opportunity and a better future. Janko Family Law can help ensure that your best interests are protected. Contact us at 719-344-5523 or complete our online form to set up a free thirty-minute informational consultation.