Substance Abuse and Parenting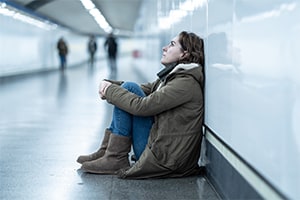 Sometimes in the course of dissolution or allocation of parental responsibilities AKA child custody proceedings, the issue of parental substance abuse arises. Parental substance abuse can have a substantial impact on parenting and parenting time. If a parent abuses substances, he or she may not be able to adequately care for children while under the influence. A parent's ability to care for children is a critical factor in determining the best interests of the children.
Impact of Substance Abuse On Children
In families where a parent abuses substances, behavior may be unpredictable and communication unclear. Children don't know what to expect. A parent may be nurturing one day and require caretaking from the children on the next. There may be no set schedule exercised in the household because parents under the influence are not always capable of household planning and leadership.
Children can feel confused and insecure as a result of inconsistent parenting. It is not unusual for children of substance abusers to experience abuse, neglect, a lack of supervision, poor nutrition, or unsanitary housing conditions. Parental substance abuse may place children at a higher risk for physical, emotional, and mental health issues. Families wherein substances are abused are more likely to experience domestic violence, dissolution, unemployment, and mental illness.
Parental Unfitness
A fit parent is presumed to be able to parent effectively. However, unfitness of the other parent may be raised in dissolution allocation of parental responsibilities matters. It is not unusual for one parent to raise issues against the other of:
Child abuse or neglect
Mental illness
Domestic violence
Criminal behavior
Substance abuse
One aspect to examine is evidence of unfitness. Are there police reports, Department of Human Services reports, medical records, therapy records, or criminal records? If there is no evidence of the allegations, establishing unfitness in a court proceeding based simply upon the testimony of a parent involved in an allocation of parental responsibilities conflict with the other will be difficult for the court.
Marijuana
Marijuana is legal in Colorado and marijuana use alone is not a determinative factor in parenting time. A negative impact on the child must be shown; such as exposure of the child to the substance. However, if a parent privately uses marijuana outside of the presence of the children, that is not enough to restrict or reduce parenting time.
Parenting Time Restriction
In Colorado it is generally in the best interests of children to have "frequent and continuing contact" with both parents. However, if a parent abuses substances, that analysis may change. Parenting time may be restricted if a parent's substance abuse endangers the child's physical health or significantly harms the child's emotional development. If endangerment is established at hearing, parenting time may be required to be supervised or suspended altogether until the parent completes a drug treatment program or provides a negative drug test.
Substance testing may be required if:
The mental or physical condition of the parent is in question, or
Good cause for testing is shown, and
Sufficient notice of testing is provided
Turning Change Into Opportunity in Colorado Springs
Colorado Springs Divorce and family law matters are difficult to navigate alone. The court system is more complex than it should be and you get one bite at the legal apple. Remember that change often creates new opportunity and a better future. Janko Family Law Solutions can help ensure that your best interests are protected. Contact us at 719-344-5523 or complete our online form to set up a free thirty-minute informational consultation.
A legal team can guide you through Colorado Springs matters involving substance abuse and parenting by handling pleading and motion preparation and filing, negotiation, mediation, and court proceedings from start to finish. This allows you to focus on moving forward to a better future rather than on trying to figure out how the overly complex court system works.