Parenting Plans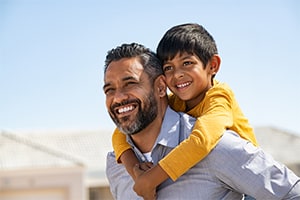 A Parenting Plan is part of every dissolution involving children and also every allocation of parental responsibilities action. There are many aspects to address for children upon legal separation or dissolution. Parties can either submit a joint plan to a court if they agree on all provisions, or they can submit separate plans and let the Court decide unresolved issues.
Every plan must address the child's residence and parenting time as well as parental decision-making authority. Child support must also be addressed. In addition to these areas, there are many optional areas that can be addressed. A parenting plan can be as simple or detailed as parents desire. The Colorado Courts website has a sample parenting plan that shows the minimum requirements that must be included.
Optional areas may include:
Educational issues, such as academic tutoring
Academic and extracurricular activity expenses

Such expenses are not legally required to be shared

Exchange of educational and medical information
Care of sick children
Religion
Non-essential medical, dental and mental health care

Unreimbursed essential medical expense coverage is addressed in all plans/orders

Methods of dispute resolution

Many people agree to mediate prior to filing future court actions

Transportation arrangements and payment
Methods of parental communication
Right of first refusal for childcare
Emergency response
Periodic parenting time reviews
Make-up parenting time
Parenting Evaluations
Sometimes a court will appoint a Child and Family Investigator or Parental Responsibilities Evaluator to conduct an evaluation that will assist a court in reaching a parenting time determination. This often occurs in high-conflict situations where parents have difficulty communicating with each other and making decisions together. The evaluator will interview both parents and other important people in the children's lives and write a report. Your attorney can explain the evaluation process to you and help you prepare for your interview. The report must be completed and filed with the court 21 days before a permanent orders hearing. The evaluator does not have confidentiality with any party in the action or with the children so may share anything that is said to him or her and incorporate it into the report.
Evidence
It is common to have witnesses testify in parental responsibilities hearings. Common witnesses are childcare providers, neighbors, teachers, medical providers, friends, relatives and clergy. For example, a caregiver may be able to testify about a child's behavior when leaving and returning to a parent, the child's interactions with other children and adults, and explain what type of care is provided and how it is provided. Neighbors might be able to testify about the existence of violence or neglect and describe a child's relationship with family members.
If a party disagrees with the conclusion of the evaluator, that party may challenge the findings in court, with their own expert witness. A party might challenge any facts that are not correct or inquire about important omissions, such as a failure to interview a child's teacher when the child is not performing well in school. Some evaluators may be biased towards a party and this can be challenged as well.
Are you looking for a Family Law Attorney who understands the impact of divorce and separation on children? At Janko Family Law we understand how to obtain your desired results in family law matters. Give us a call for a complimentary case assessment at 719-344-5523 or complete our confidential online intake.