Colorado Initial Decree Relocation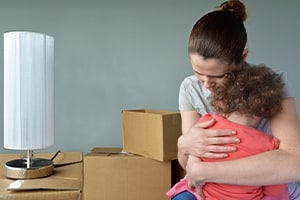 Relocation is an increasingly common issue for parents in post-decree matters. American society has become transitory and there are many important reasons why a parent may want to relocate from the place where they entered into an initial decree. Perhaps they are offered a new professional position or their financial circumstances have changed and they can not afford the cost of living in the current area. If parents can not decide on the issue of parenting time in the event of relocation, then a court must decide.
In initial parental relocations cases, as opposed to post-decree modifications, each parent may freely choose his and her residential location and the parenting plan must be coordinated around those choices. Allocation of parental responsibilities and parenting time is then based on the best interests of the child standard. You can reference my allocation of parental responsibilities practice area page for the best interests of the child factors. Colorado has a public policy goal of encouraging frequent and continuing contact between both parents and the children which guides allocation and parenting time decisions.
Colorado has decided that it would be inappropriate for courts to require a parent to remain in the state against their will, so if one parent chooses to relocate out of the state, the choice for the court is the allocation of parental responsibilities if the parents can not agree. Preventing a parent's departure from a state conflicts with the federal constitutional right to travel and would hold a parent captive in the state at the request of the other parent. Relocation can impact parenting substantially. Shared parenting is less viable for parents living in different states and does not work during the school year for school age children, absent special circumstances such as homeschooling.
In relocation matters when the parties can not agree, a hearing is held. The opportunity to be heard is a fundamental due process right. Relocation matters can not be decided on the pleadings. Courts will want to hear evidence on the following factors in making a relocation parenting time determination:
Who has been the primary physical and emotional parent
Each parent's ability to support the children's relationship with the other parent
The reason for the relocation
Family and community relationships in both locations
Travel requirements and arrangements for parenting time
Relocation Parenting Plan
When parents can not agree, each parent must set forth his or her proposed parenting plan for the court to consider. There are many options and parents can be as creative as they wish in their proposals:
one parent could have most of the school year parenting time, while the other has most of the summer
one parent could have most of the school breaks
unique arrangements could be implemented, such as homeschooling
Spahmer v. Gullette
Spahmer v. Gullette is Colorado's landmark case on pre-decree relocation. It is what sets forth the approach that Colorado courts must accept the chosen living locations of each parent at the time of initial custody determination and create a commensurate parenting plan. Separate caselaw governs the a different standard for post-decree relocation that does not give as much deference to parental choice of living location. You can review my practice page on post-decree relocation for more information. The rationale behind the differing standards in Colorado is that in a post-decree matter, the parents have developed a vested interest in their parenting arrangements and a relocation has the potential to disrupt that vested interest.
Are you looking for a Family Law Attorney who understands the impact of divorce and separation on children? At Janko Family Law Solutions we understand how to obtain child-centered results in family law matters. Give us a call for a complimentary case assessment at 719-344-5523, or fill out our confidential online intake form.