Domestic Violence and Child Custody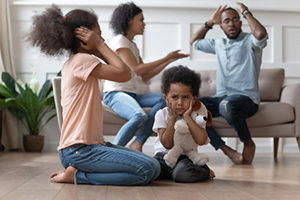 Domestic violence is a factor to be considered in matters of child custody AKA allocation of parental responsibilities. Domestic violence is actual or threatened physical violence against an intimate partner, property, or pet. The legal standard in a domestic relations court for a finding of domestic violence is a preponderance of the evidence which is a lower standard than the criminal standard of beyond a reasonable doubt.
Consequences of a domestic violence finding could be limitations on parenting time or an award of sole parental decision making to the parent who did not perpetrate domestic violence. When one parent has committed domestic violence against the other parent or the child, the court usually will not require the parents to share decision-making responsibilities if the abused parent objects, which is often the case. However, courts believe that it is generally in the best interest of every child to have parenting time with both parents, therefore except in unusual cases the court will grant even the abusive parent for of parenting time with the child.
Child Custody Factors
When courts make parenting decisions, the court considers in general the following factors:
what parenting plan each parent would like
the child's desires, if they are mature enough to express them
the child's relationship with parents, siblings and significant others
the child's adjustment to home, school and community,
mental and physical health of parents and the child
the ability of the parents to facilitate the child's relationship with the other parent
distance between parental homes
the existence of abuse or neglect, and
the ability of the parents to place the child's needs above their own
Domestic Violence
Domestic violence comes in various forms such as:
verbal abuse (yelling or name calling)
physical violence
emotional abuse
economic abuse
A court will consider not only abuse of a child of the union, but also abuse to other children as well. Child abuse is often not focused just on one child or one set of children. A criminal conviction is not required to substantiate abuse. For many reasons, abuse may not be reported and consequently an abuser may never be charged with a crime. When a court does find child abuse or neglect, domestic violence or sexual assault, the judge must consider child safety in any parenting plan. Safety provisions may include:
limiting contact between the parties
exchanging the child in a protected setting, such as a police station
supervised parenting
restricting overnight time with children
a requirement to abstain from the use of alcohol or drugs during parenting time
address confidentiality
requiring domestic violence evaluations or treatment
Turning Change Into Opportunity
How can an attorney help? An attorney can assist you in divorce and family law matters by helping you navigate through legal challenges. Determining how the court will view a legal situation can be difficult for those without an in-depth knowledge of the law.
A Colorado Springs divorce and family law attorney can guide you through divorce by negotiating, mediating and litigating. This allows you to focus on moving forward to a better future rather than on spending your time trying to figure out the overly complex court system. Contact us at 719-344-5523 or complete our online form to set up a free thirty-minute informational consultation.